A world of effort goes into making every Jaguar the most capable, reliable and dependable of cars.
It all starts in the heart of England, at our Engineering Centre in Whitley and the Jaguar Land Rover proving grounds in Gaydon.
At Gaydon, our full suite of engineering and design offices and facilities covers 380 acres, and is home to 2,500 engineers. They have access to a wealth of advanced tools including Climate Chambers that can simulate conditions as diverse as a -40ºC Arctic winter, or the +55ºC heat of a Middle-Eastern desert. They also use static engine, transmission, gearbox and chassis test rigs to put prototype components or complete chassis through a 10-year, 240,000 kilometre life cycle of tests in just a few weeks – all without leaving the UK.
Jaguar F‑PACE- Climate Chamber Testing, Gaydon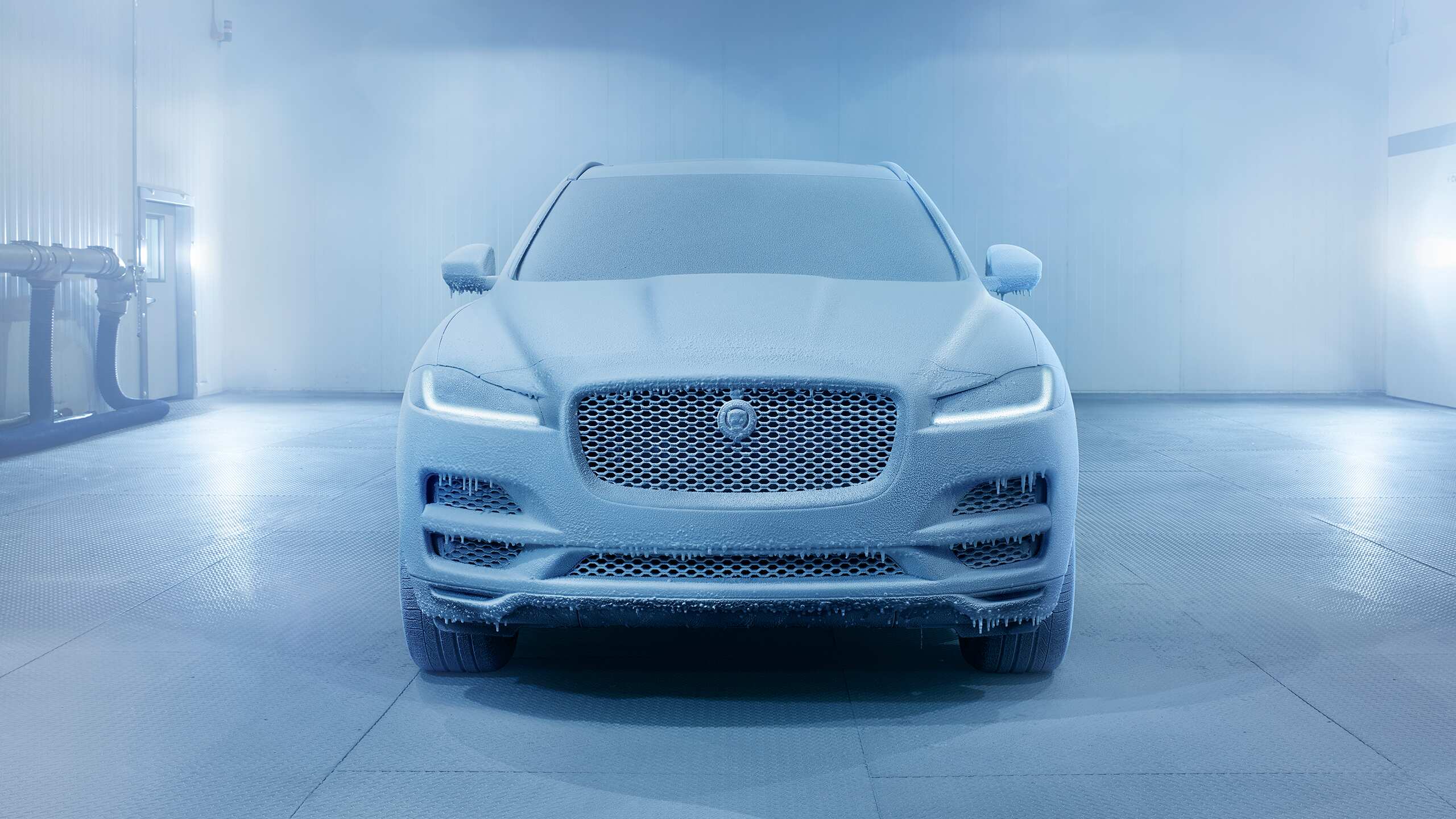 On Gaydon's dedicated test tracks, vehicles can be driven 24 hours a day on the four-lane Emissions Circuit, while the Low-Speed Endurance Circuit, Developing World gravel tracks and Off-Road Course let us test our vehicles on many of the diverse road conditions they will face, so we can explore the limits of their performance and reliability.
We have also developed high-tech, real-world test facilities around the globe – dedicated locations, where prototypes can rack up thousands of kilometres of driving in some of the most hostile environments known to man, in order to ensure faultless reliability, wherever a Jaguar is driven.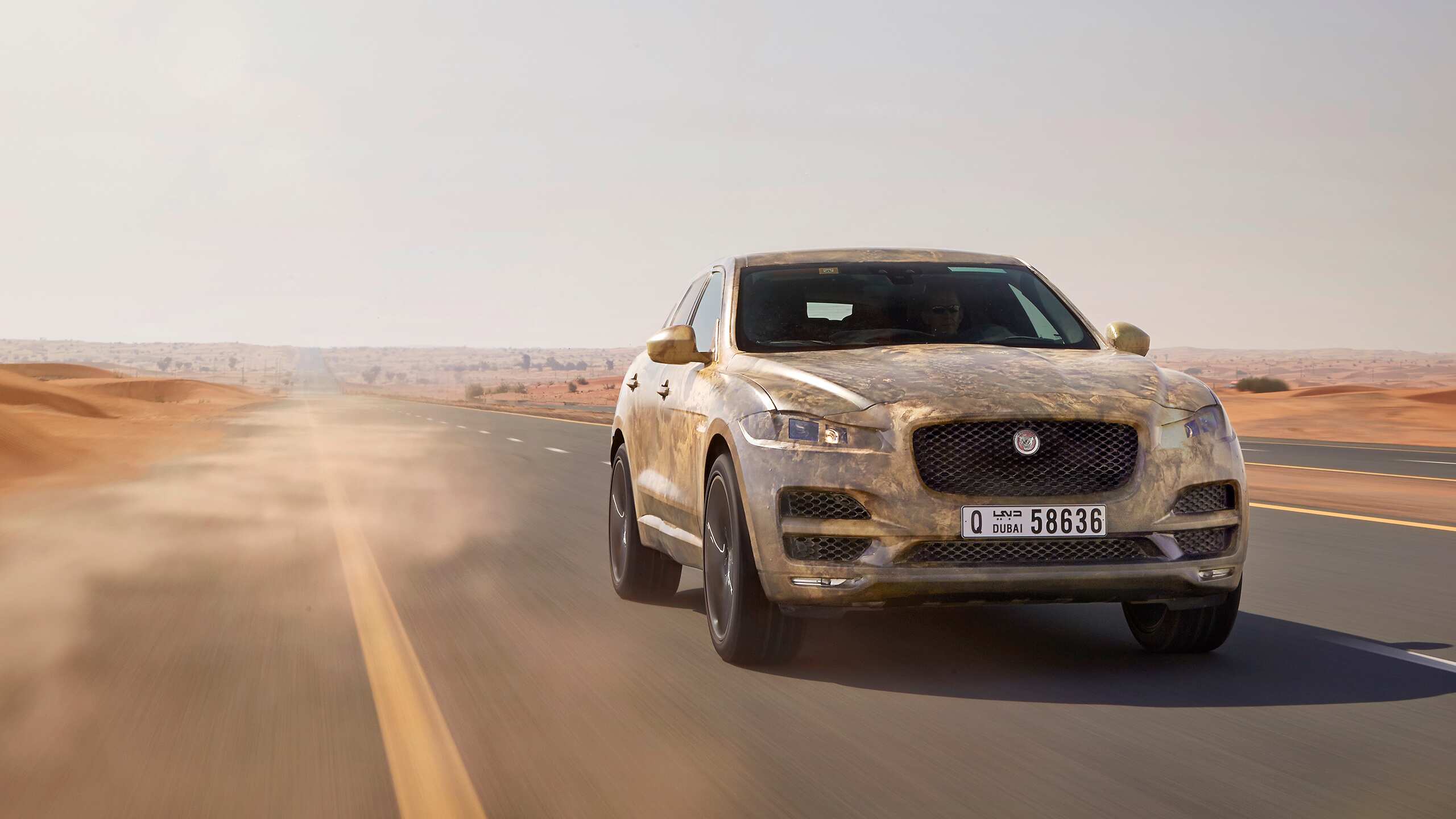 Cold-weather tests don't come tougher than those in Arjeplog, Sweden, and International Falls, USA, where – in the depths of winter – cars are 'cold-soaked' overnight in temperatures as low as -40ºC, before being expected to start faultlessly the following morning.
In the dry Arizona deserts around Phoenix, USA, our cars are pushed to the limit at temperatures up to 50ºC to test hot weather performance, brake cooling and in-car ventilation, while paint panels are kept outside for three years to test fade resistance. We also use the mountain roads of Denver to test engine and transmission calibration at high altitude.
Jaguar F‑PACE – Extreme Weather Testing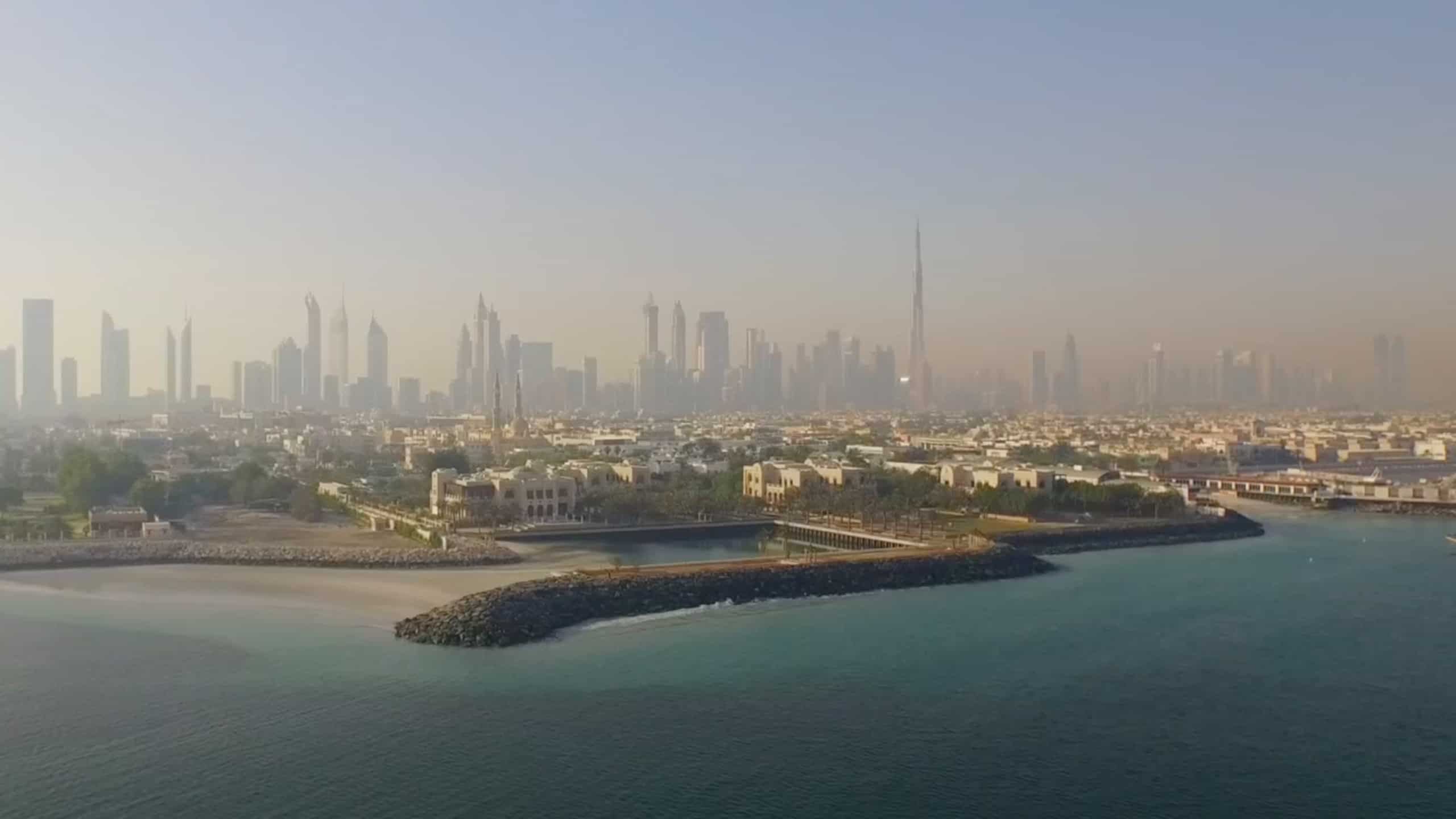 "Altitude affects how the engine and gearbox interact," says Ged Pybus, Senior Manager for Automatic Transmission Systems. "You have roads as high as 4350m in the Denver area, 2,250m in Mexico City, and up to 4,700m in China, India and South America. There is a huge variation in engine performance as a result of the thinner air which the transmission has to recognise, and adapt to."
We've also expanded our testing investment in the Middle East, with a facility in Al Barsha, Dubai – perfect for off-road testing of SUVs on some of the toughest sand dunes on the planet.
We don't just push our cars to extremes of temperature. On the 12.5 kilometre high-speed banked oval of the Nardò Ring in Italy, prototypes undergo a 35,000 kilometre durability run, over a week or more, at close-to-maximum speed, while the suspension is optimised on the facility's handling tracks.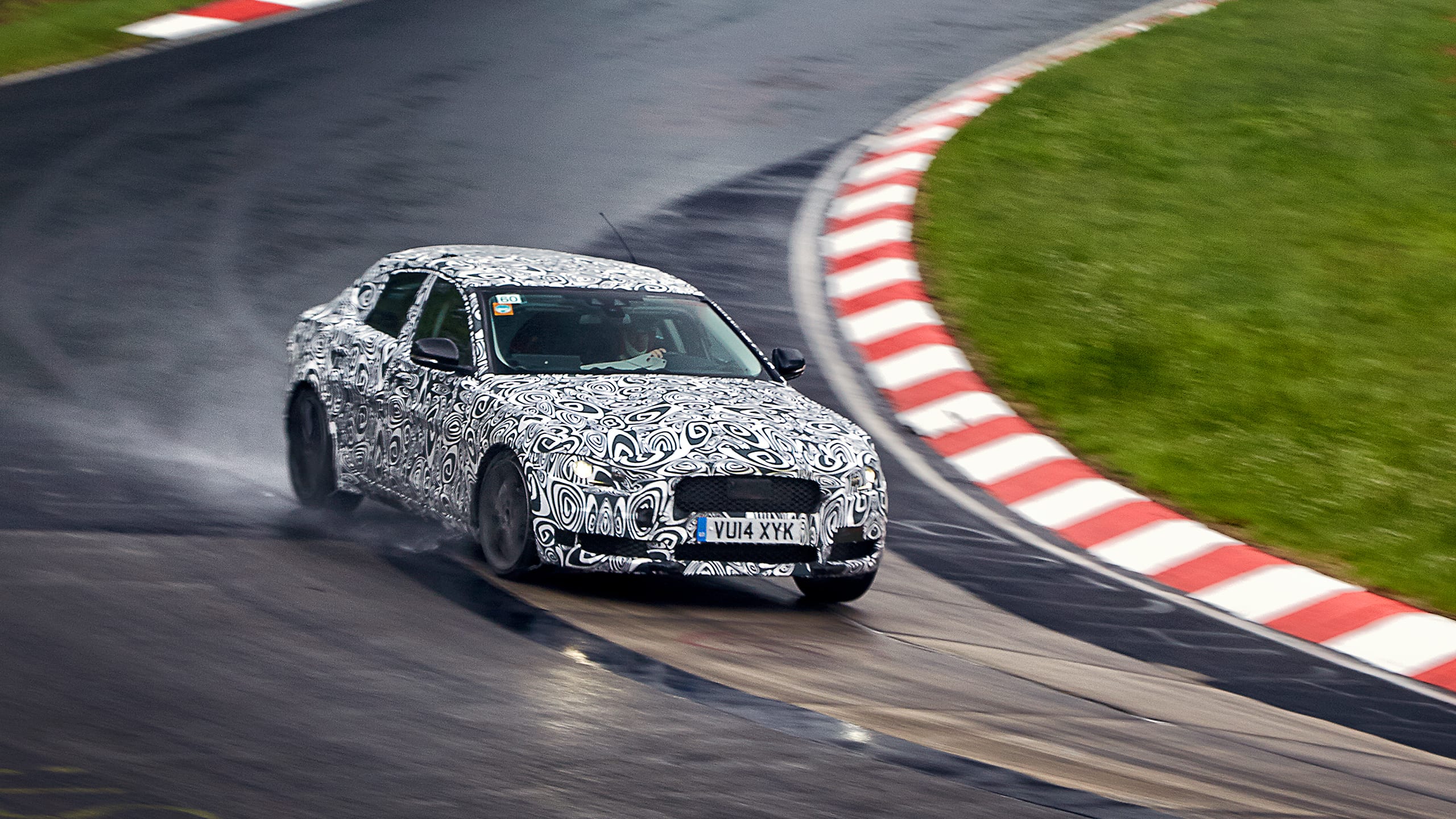 Finally, the ultimate real-world performance test for every Jaguar comes at the famed Nordschleife layout of the Nürburgring in central Germany. From our highly-advanced facility, cars are sent out on the 'Enthusiastic Driver Robustness Test' – a gruelling 8,000 kilometre, 390-lap run around 73 challenging curves that rise and fall 300m through Germany's Eifel forests.
It's said that one 20.8 kilometre high-speed lap of the Nordschleife is the equivalent of 140 kilometres of testing on conventional roads, making this test the equivalent of 80,000 kilometres of driving in just a few weeks.
"IF A CAR CAN SURVIVE THE NÜRBURGRING, IT'S GOING TO BE CAPABLE AND DURABLE IN THE REAL-WORLD"
PHIL TALBOYS
Manager of European Test Operations
"The Nürburgring offers a real breadth of opportunities and a consistent benchmark, lap after lap," says Phil Talboys, Manager of European Test Operations. "Our ultimate durability test is at the very top end of a car's performance, and goes well beyond what most drivers will do, but that's how we ensure robustness in the final product."
"It really does benefit the average car driver – from a reliability and robustness point of view, as well as handling. If a car can survive the Nürburgring, it's going to be capable and durable in the real-world."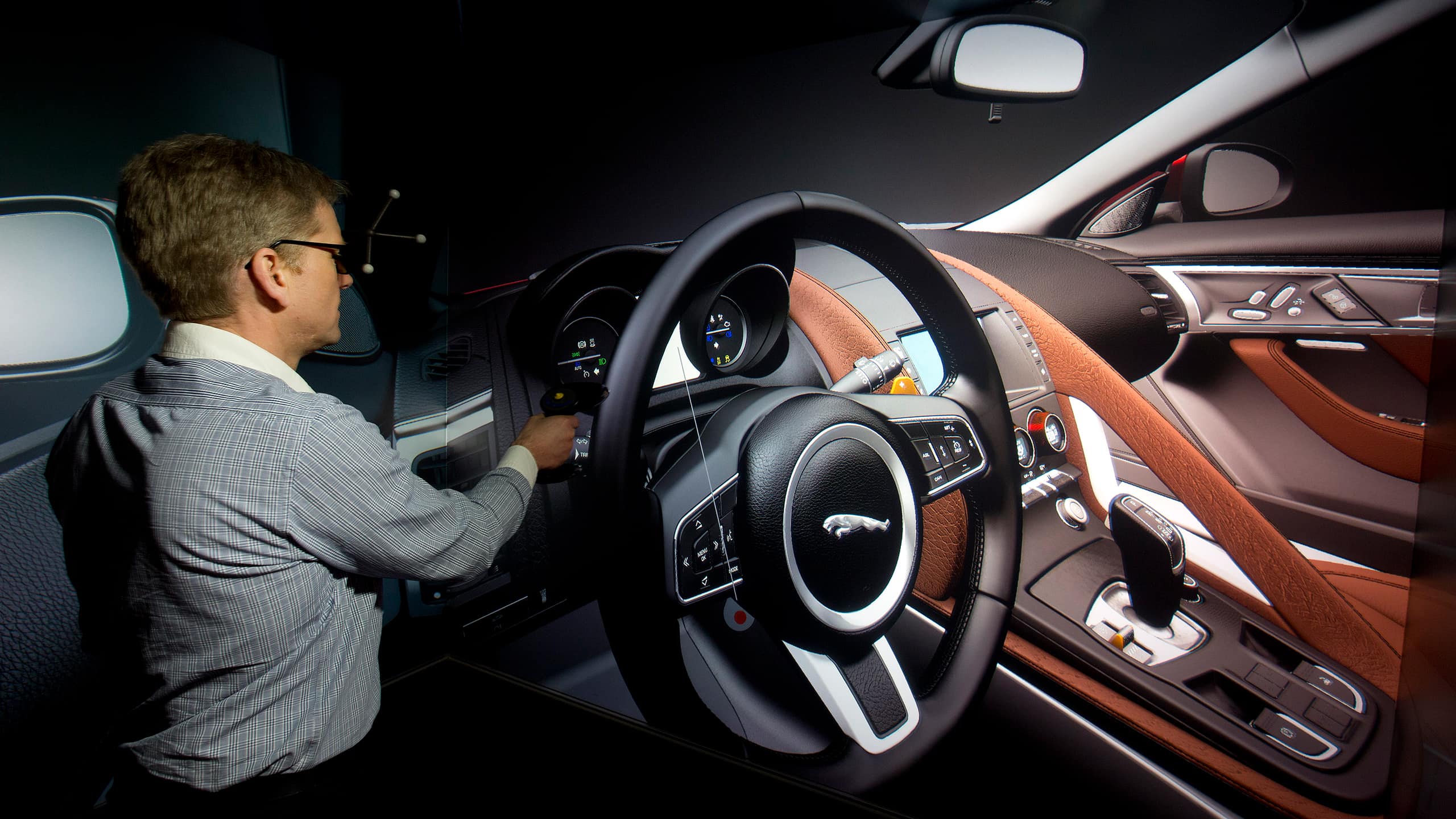 VIRTUAL ENGINEERING
Posted: 18-08-2016
We are investing heavily in state-of-the-art virtual engineering tools that enable new products – and the advanced technologies that drive them – to be designed more quickly, more efficiently, and more robustly. The end result is Jaguar cars that are more reliable, durable and dependable.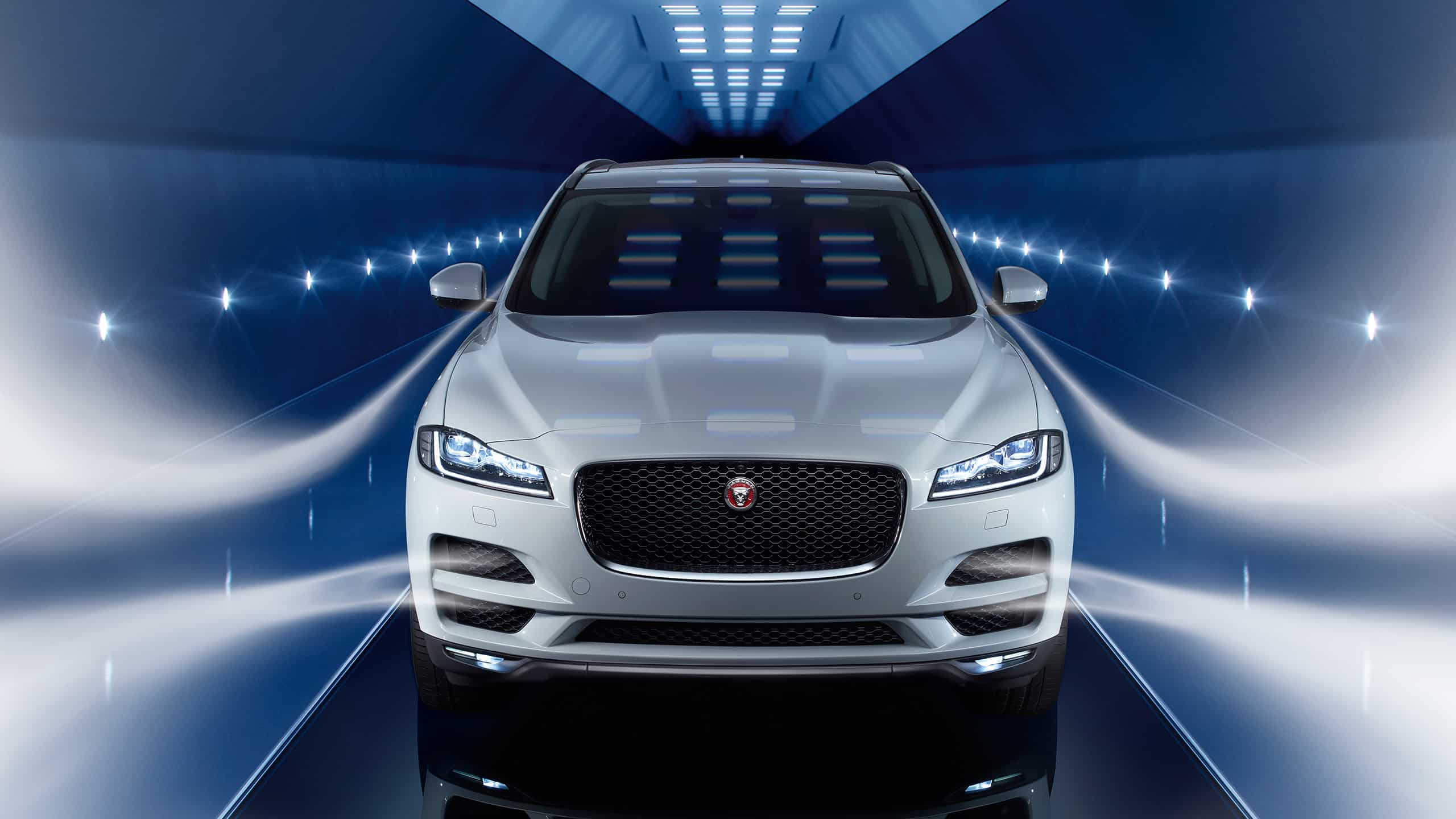 TESTING PROCESS
Posted: 18-08-2016
Throughout each stage of design, development and production, every component of a Jaguar goes through thousands of tests and checks for safety, durability and quality, ensuring that the finished product is the most reliable, dependable and safest car you can drive.