JAGUAR LAUNCHES EV CHARGING AND POWERWAY NETWORK IN SOUTH AFRICA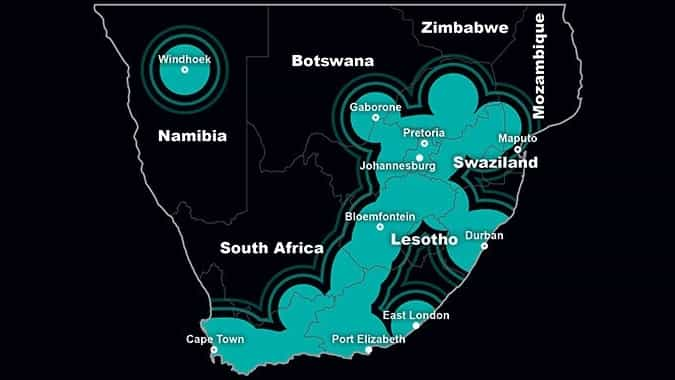 Jaguar, in partnership with electric vehicle charging authority GridCars, has laid the foundation for the future of electric and plug-in hybrid vehicles in South Africa with 82 new public charging stations in the country's major hubs and along frequently-travelled holiday routes. 
The R30-million infrastructure investment will make day-to-day travel, as well as longer day trips and even very long journeys possible for owners of electric vehicles, such as the soon to be introduced Jaguar I-PACE. With a range of up to 470km depending on driving style and conditions on a single charge, an I-PACE will comfortably fit into most drivers' lifestyles, whether it's commuting to and from work on a daily basis, or travelling the long distances required for inter-city holiday destinations. 
In addition to the publicly available charging stations to be installed in customer parking areas at every Jaguar Land Rover retailer in South Africa, a total of 30 public charging stations will be erected at various points of convenience, such as shopping centres, in the country's major hubs including Johannesburg, Pretoria, Durban, Cape Town, Port Elizabeth, East London and Bloemfontein. 
South Africa's city centres will now also be connected by the Jaguar Powerway - a series of 22 charging stations along the N3 between Gauteng and Durban and the N1 between Gauteng and Cape Town. Cape Town will also be connected to the Garden Route with a series of charging stations along the N2 all the way to East London. 
Richard Gouverneur, Managing Director of Jaguar Land Rover South Africa and sub-Sahara Africa said:
"As Jaguar we are proud to be setting the pace for the new generation of electric vehicles in South Africa. The launch of the Jaguar Powerway demonstrates our commitment to electrification technology and the future of mobility in our market. This new network provides peace of mind to our Jaguar I-PACE customers who can now experience more of their world with less range restrictions." 
The majority of charging stations on the public network will be 60kWh fast chargers, meaning 100km of range will take around 20 minutes for Jaguar I-PACE owners. A charge from 0 to 80% will take around 72 minutes. 
Every charging station will also be equipped with a 22kWh AC fast charger to accommodate plug-in hybrid vehicles (PHEVs). The AC standard Type 2 socket will allow charging of all EVs currently available in South Africa. The DC charger is fitted with the CCS DC type socket used by the vast majority of EVs in SA. 
Jaguar Land Rover owners will use an RFID card to activate the charging station and manage electricity billing to the card. Cards can be credited with simple EFT payments, much like cellphone airtime top-ups. Charging station electricity rates will also be discounted by 25% for all Jaguar Land Rover EV or PHEV owners. 
Like petrol, the price of electricity fluctuates, but for now the rate for 1kWh on the card will be between R3 and R3.50 depending where in South Africa it's redeemed. With a 90kWh battery, a full recharge in an I-PACE will cost between R270 and R315 - a fraction of the fueling costs of conventional internal combustion engine (ICE) vehicles. 
The entire Jaguar charging grid and Powerway is expected to be operational by the end of November, 2018. The Jaguar I-PACE will be available in South Africa in the first quarter of 2019.