Jaguar accessories and options let you personalise I‑PACE according to your taste, your lifestyle and your interests. The most popular are grouped into three convenient packages: Exterior Carbon Fibre Pack, Black Exterior Pack and Cold Climate Pack. Build your own I‑PACE and browse the online accessories catalogue to view the full range.
EXTERIOR PACK OPTIONS
Add another distinctive edge to I‑PACE's design with these exterior packs.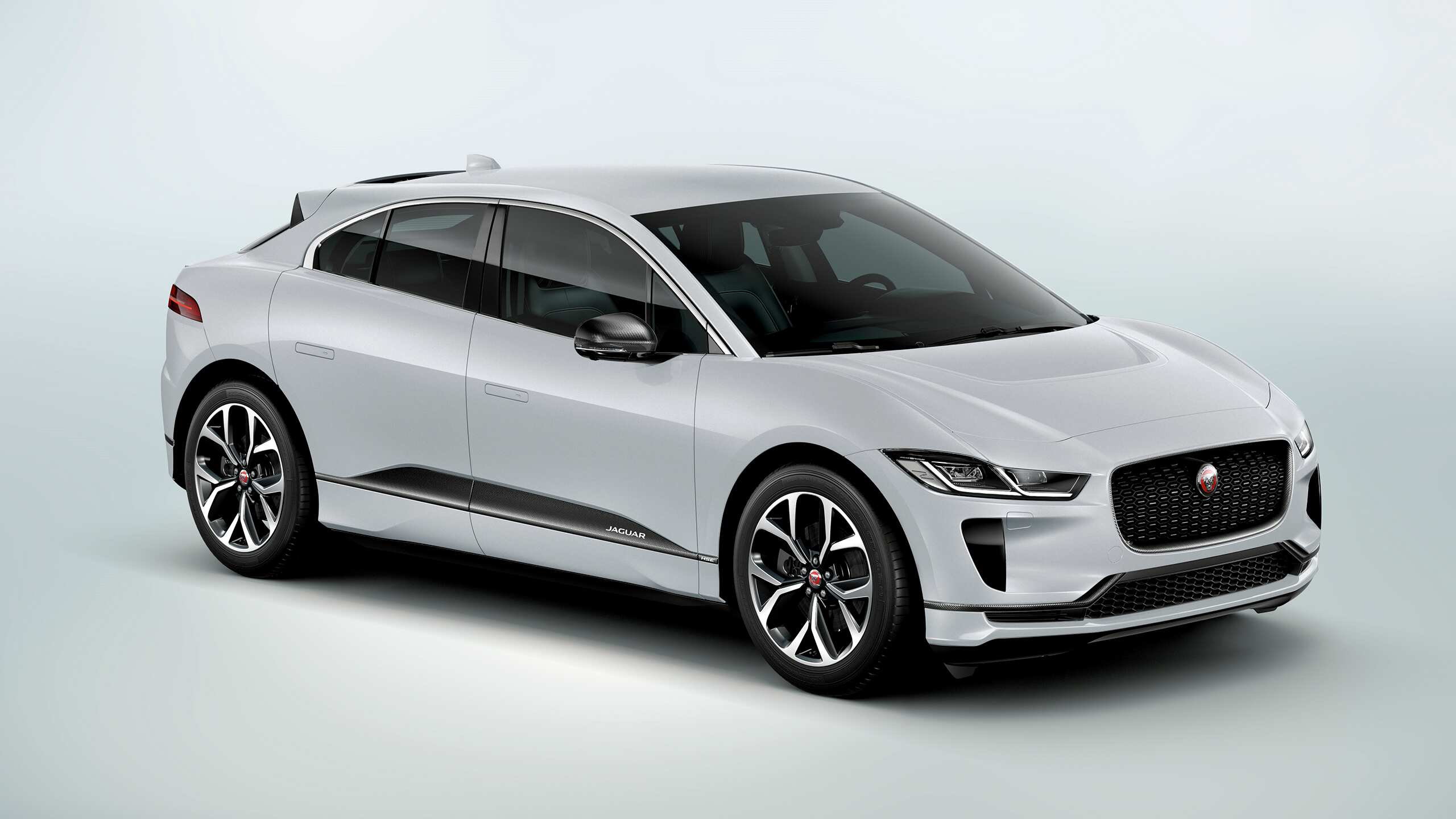 CARBON FIBRE EXTERIOR PACK
Showcase I‑PACE's high performance nature with these Carbon Fibre finishing touches. This pack includes a Carbon Fibre grille surround, Carbon Fibre mirror caps and Carbon Fibre elements on the body side and bumpers.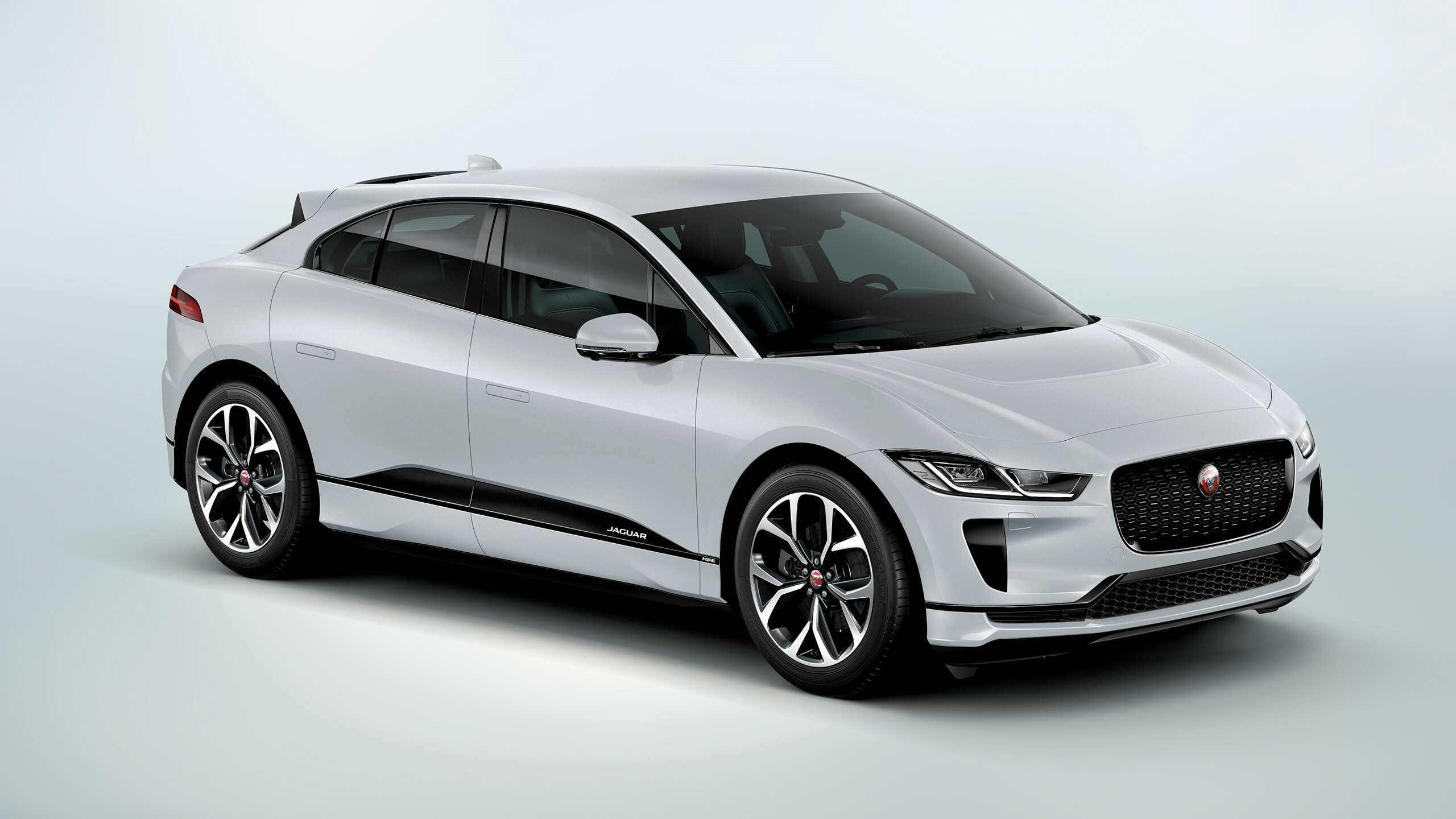 Add a touch of stealth to I‑PACE's head-turning looks with these Gloss Black features. This pack includes Gloss Black side window surrounds and a Gloss Black grille with Gloss Black surround.
INTERIOR PACK OPTION
This pack includes heated washer jets, a heated windscreen and heated steering wheel.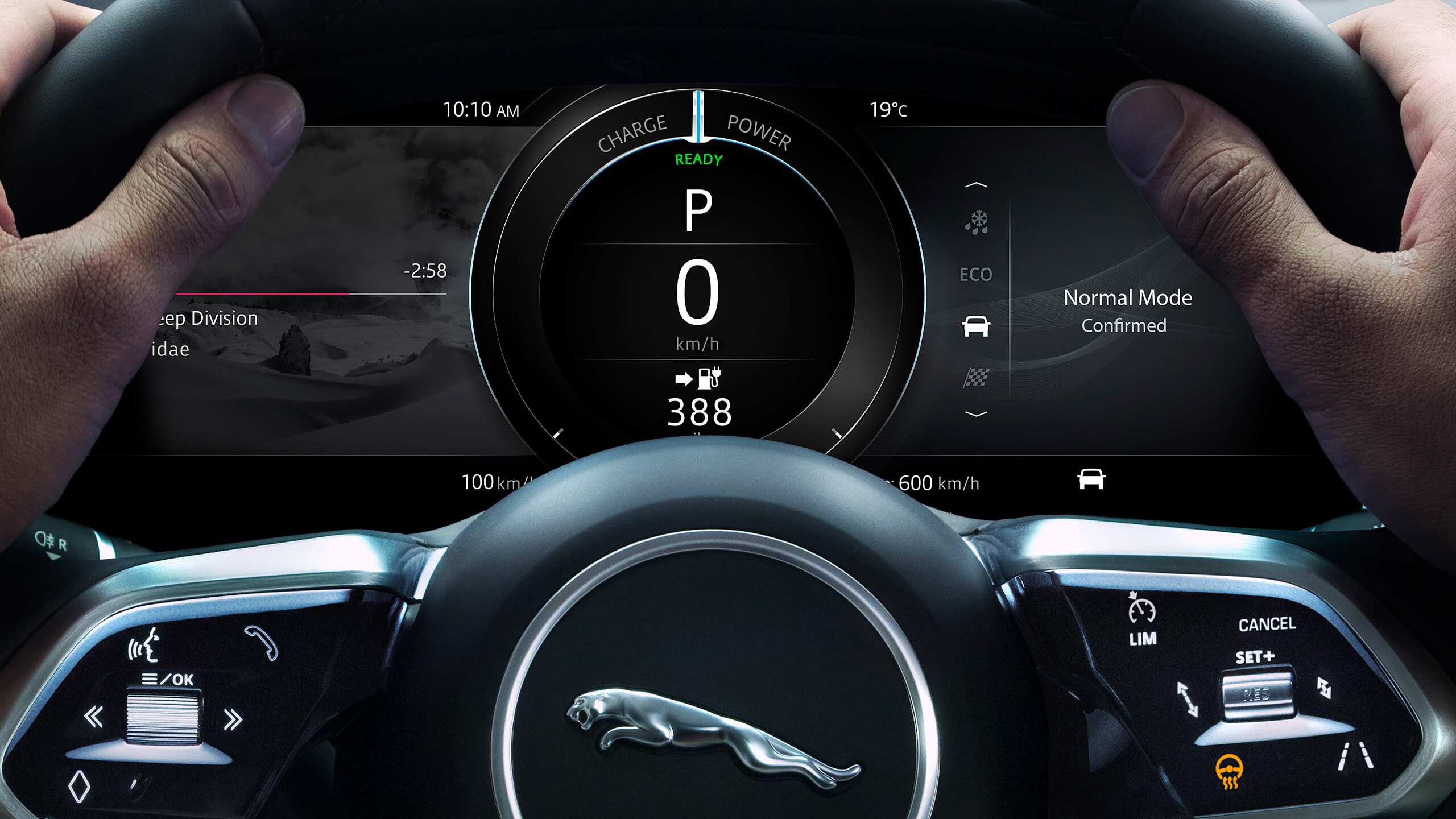 SELECT YOUR JAGUAR GEAR
Give your I‑PACE a personal touch and find the accessories to match your lifestyle.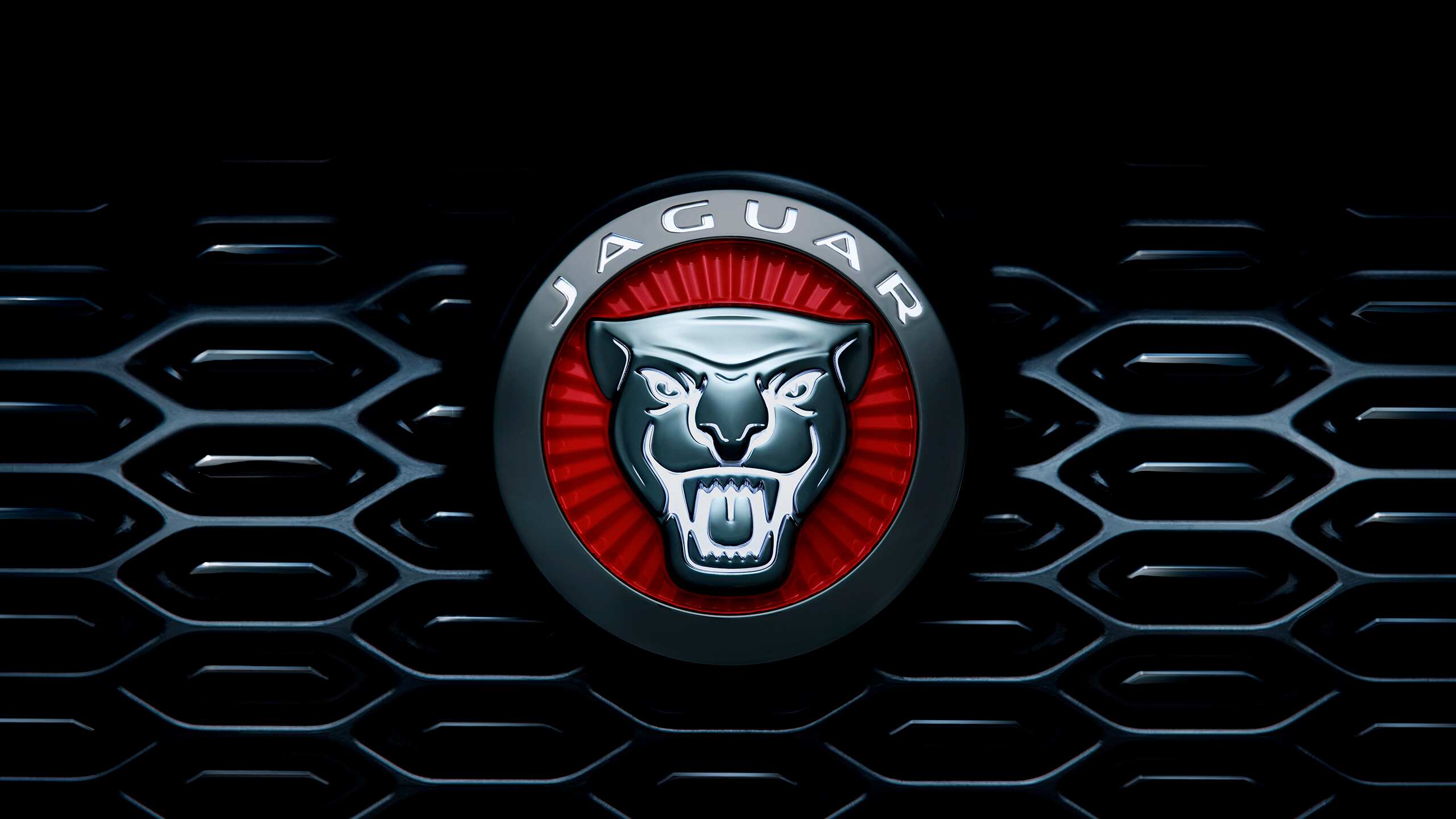 ILLUMINATED JAGUAR FRONT GRILLE BADGE
The optional illuminated front grille badge creates stunning exterior styling. The badge illuminates when I‑PACE is unlocked, when the vehicle's doors are open and the interior lights are on. The illumination goes out when the vehicle is started.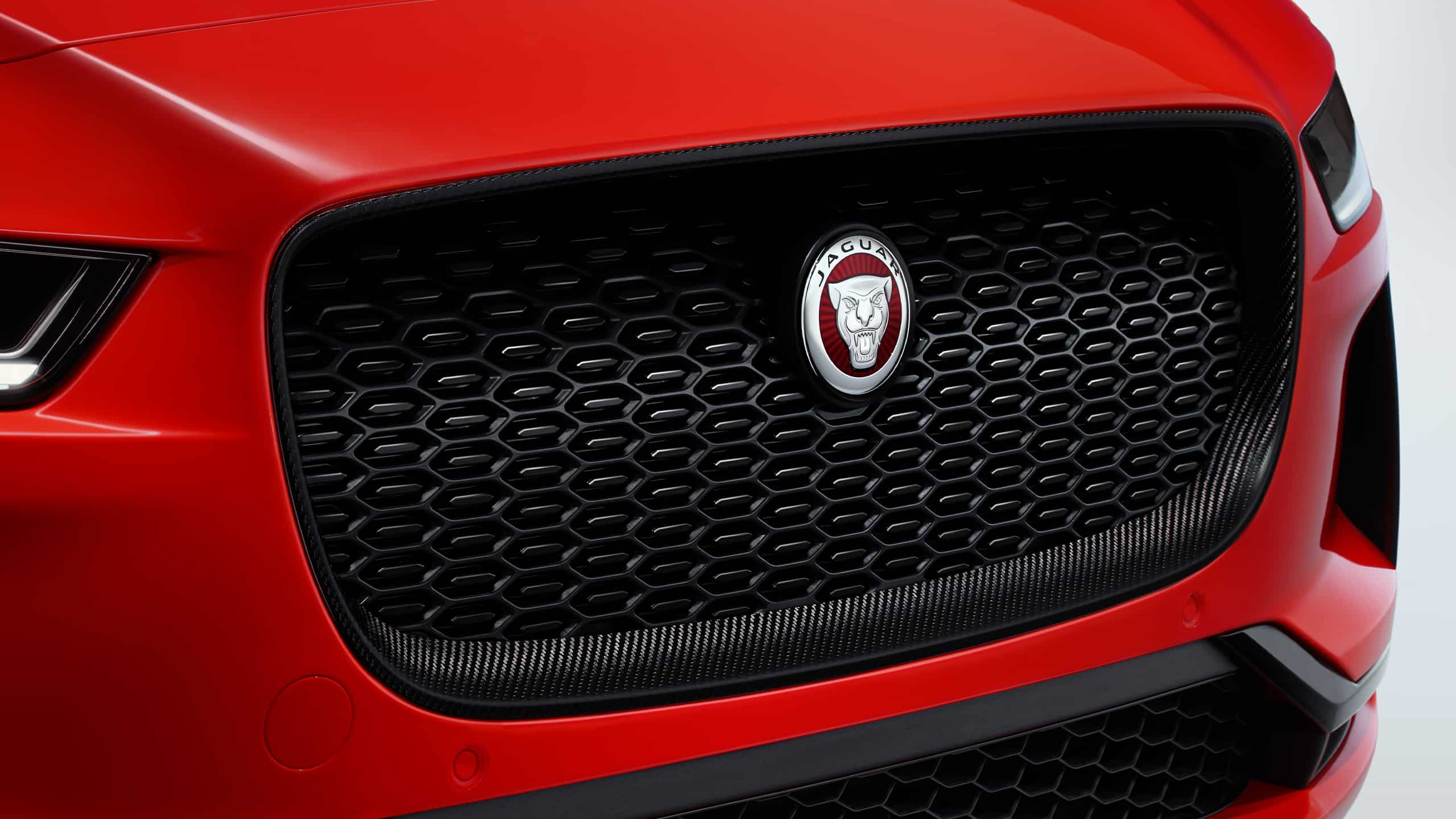 CARBON FIBRE GRILLE SURROUND
Stunning high grade Carbon Fibre front grille surround, featuring a twill weave with a High Gloss finish, provides a premium exterior styling upgrade to highlight the dynamic capabilities and performance-inspired styling of Jaguar I‑PACE.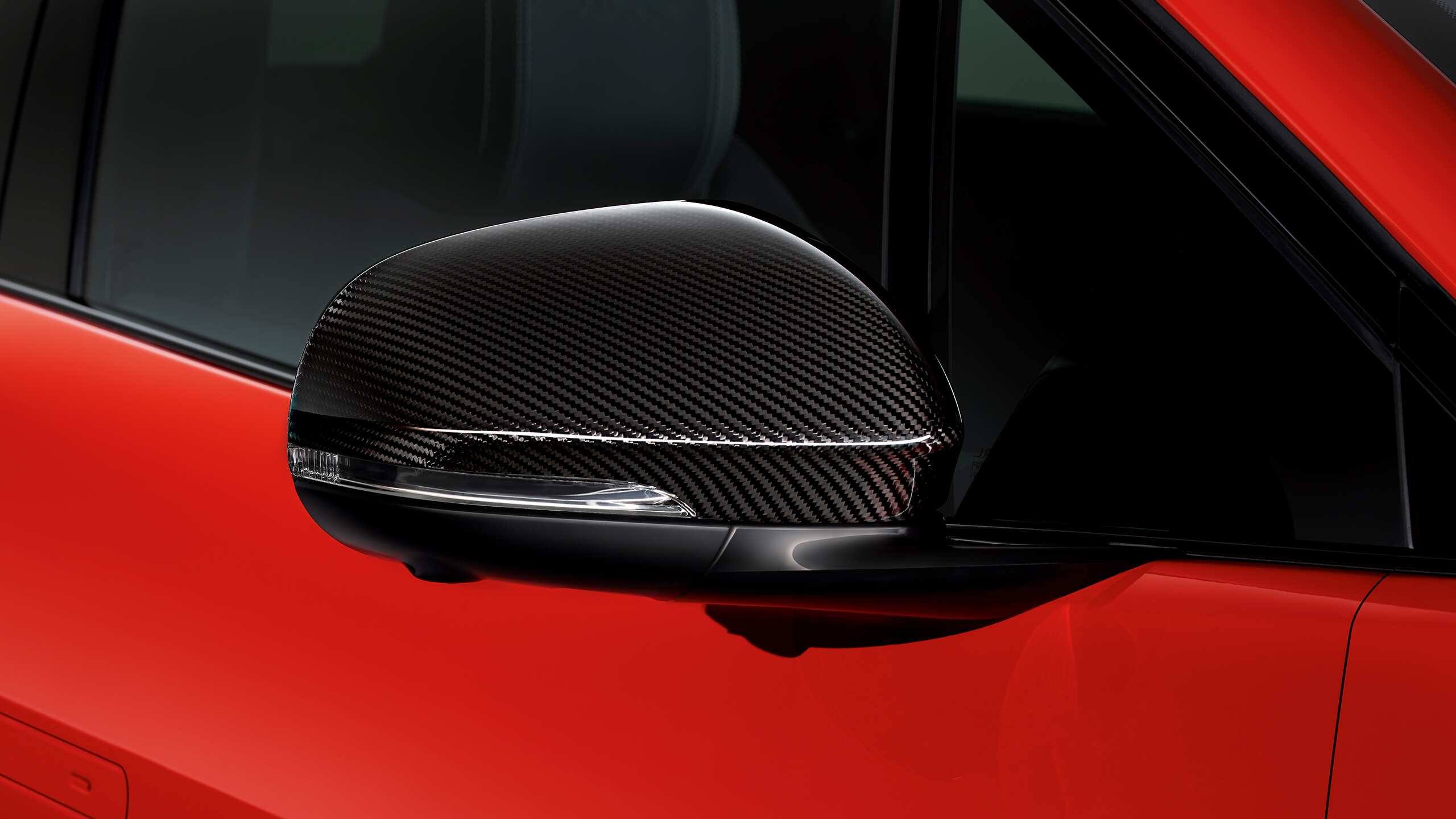 CARBON FIBRE MIRROR COVERS
Featuring a twill weave and a High Gloss lacquered finish, High grade Carbon Fibre mirror covers provides a performance-inspired styling enhancement coupled with weight benefits associated with carbon fibre.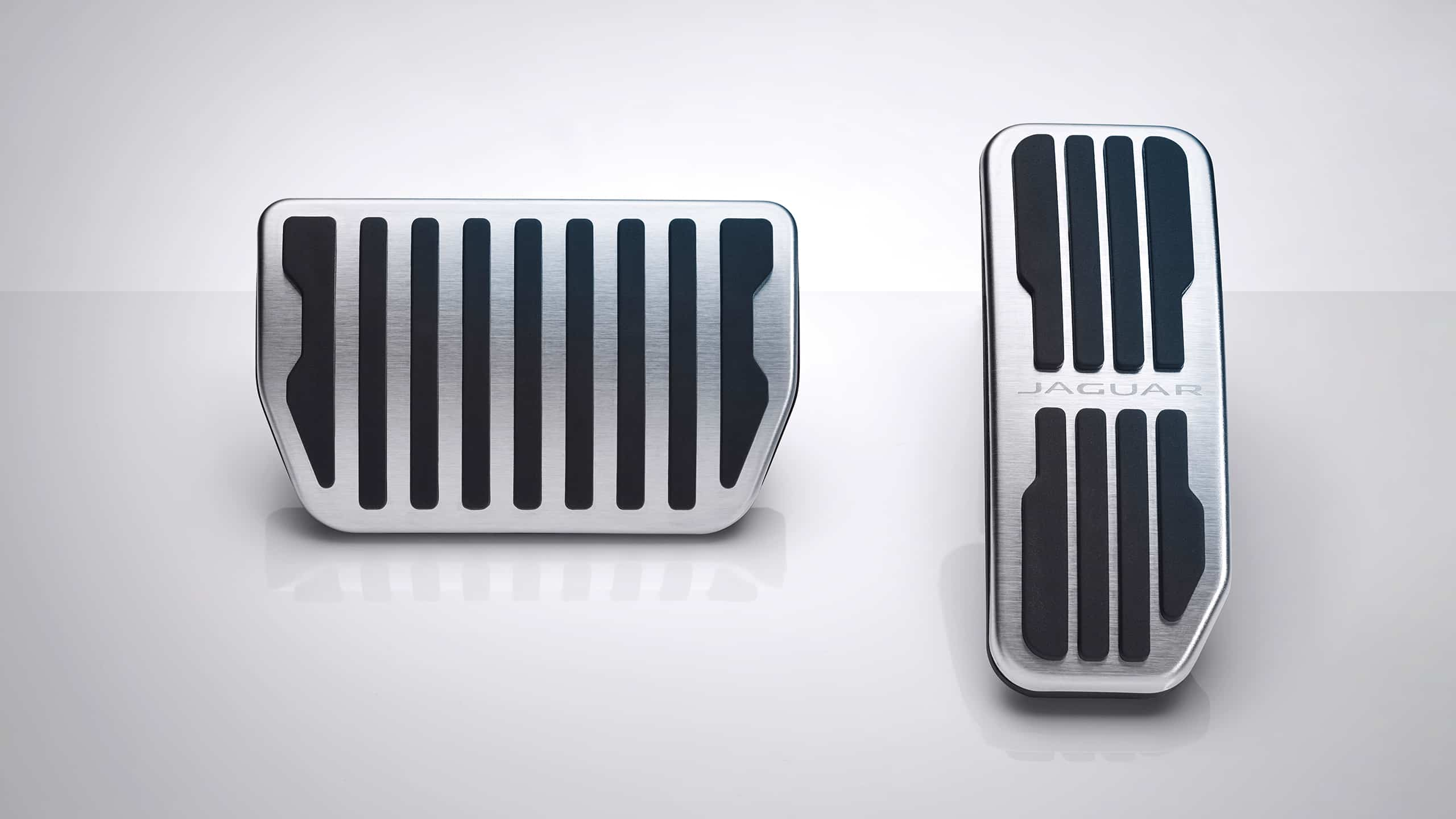 SPORTS PEDALS
Made from stainless steel and rubber, the Pedal Kit fits securely over existing pedals for a contemporary, sporting appearance.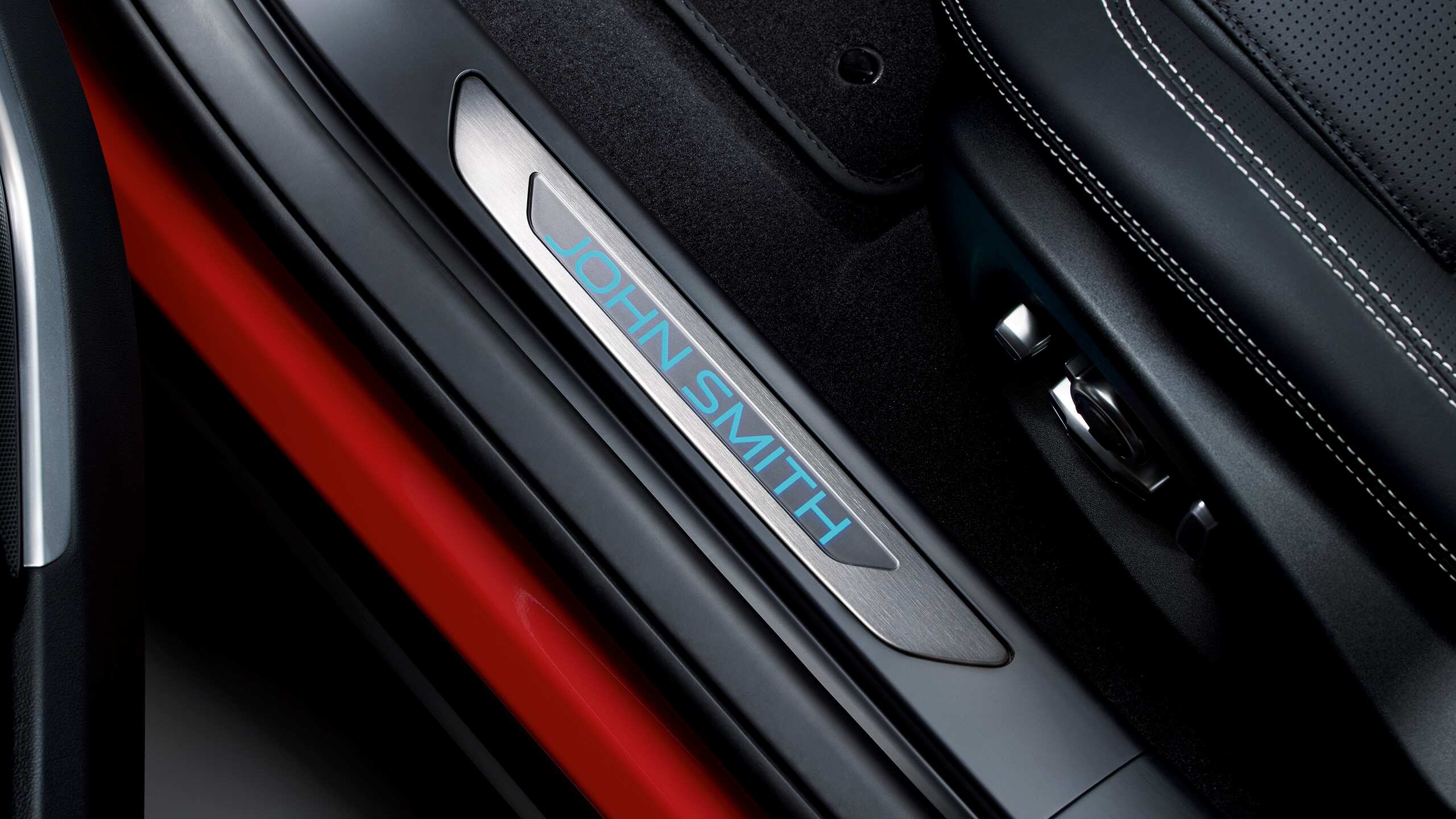 PERSONALISED ILLUMINATED TREADPLATE
Elegantly styled stainless steel sill treadplate finisher for driver or passenger doors. Illuminates when either the driver or passenger doors are opened.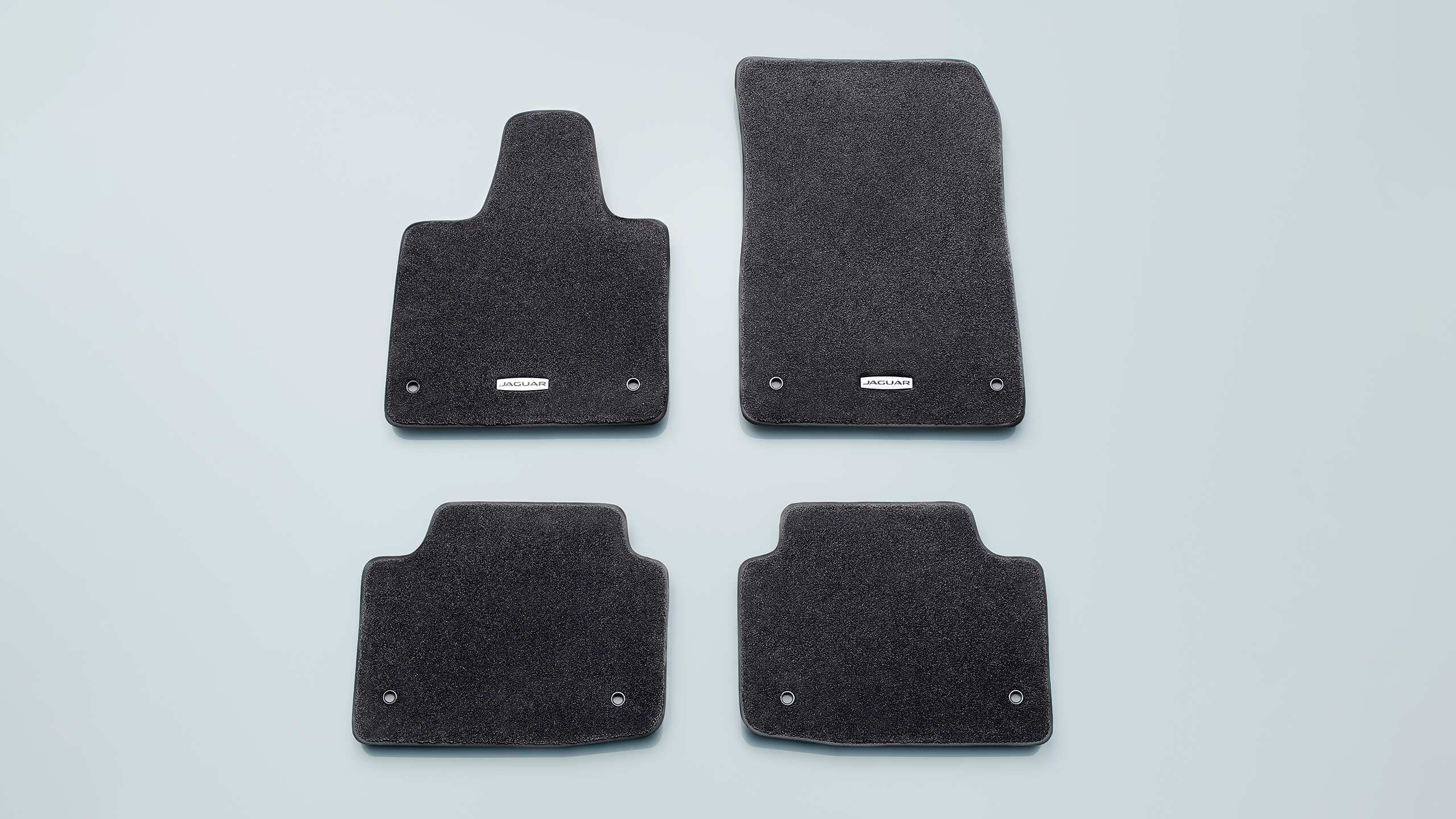 LUXURY CARPET MATS
Luxurious, tailored front carpet mats with embossed Jaguar logo and Nubuck edge binding. The premium mats provide a well-appointed finishing touch to the interior.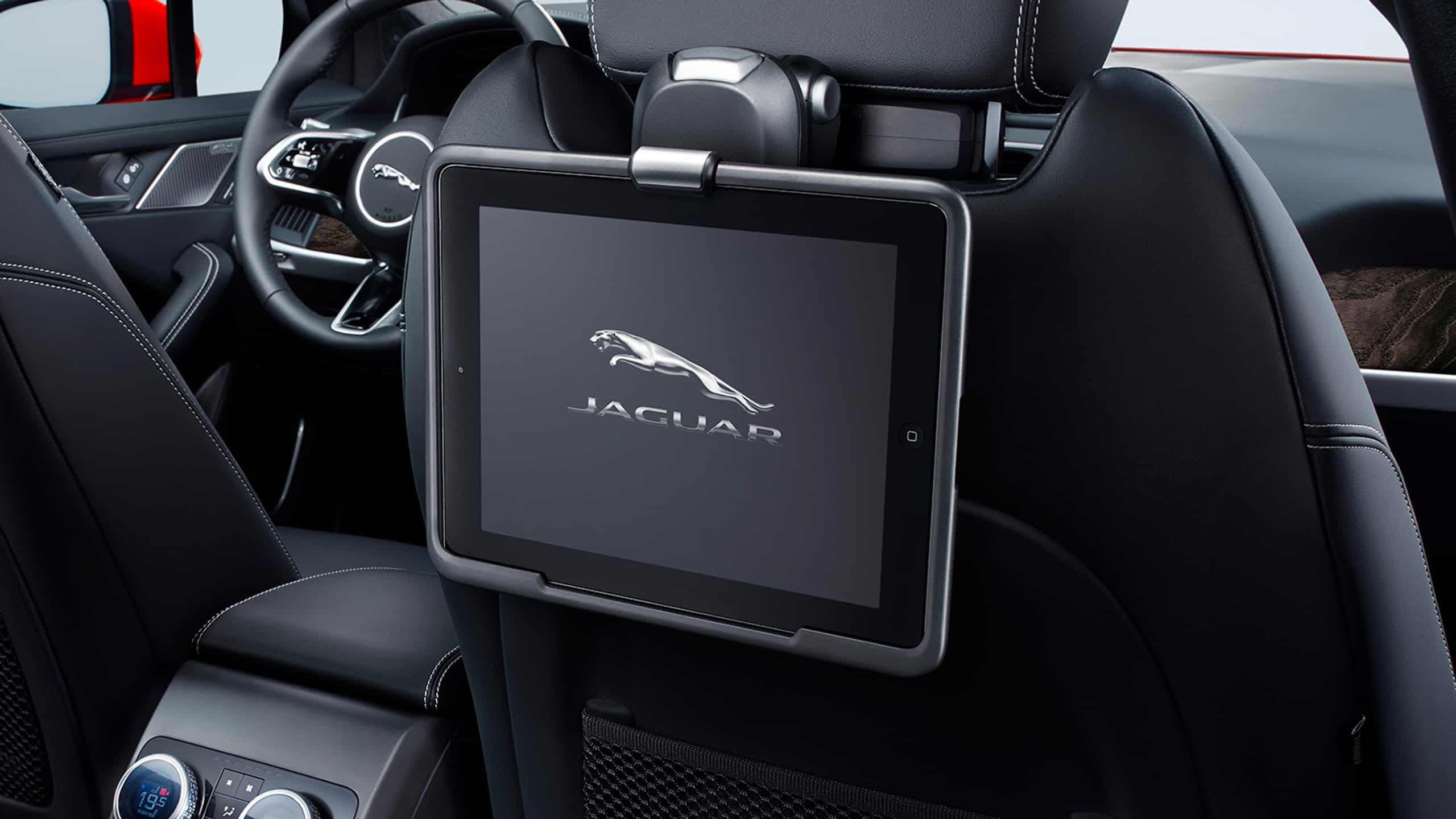 CLICK AND GO RANGE
Click and Go is a compact storage system that fits on the back of the front seat headrests. It includes a headrest mounted coat hanger to help keep clothes wrinkle free. For rear entertainment, a removable tablet holder can be easily positioned at multiple angles. Click and Hook is a universal hook that creates extra storage space to hang items such as bags.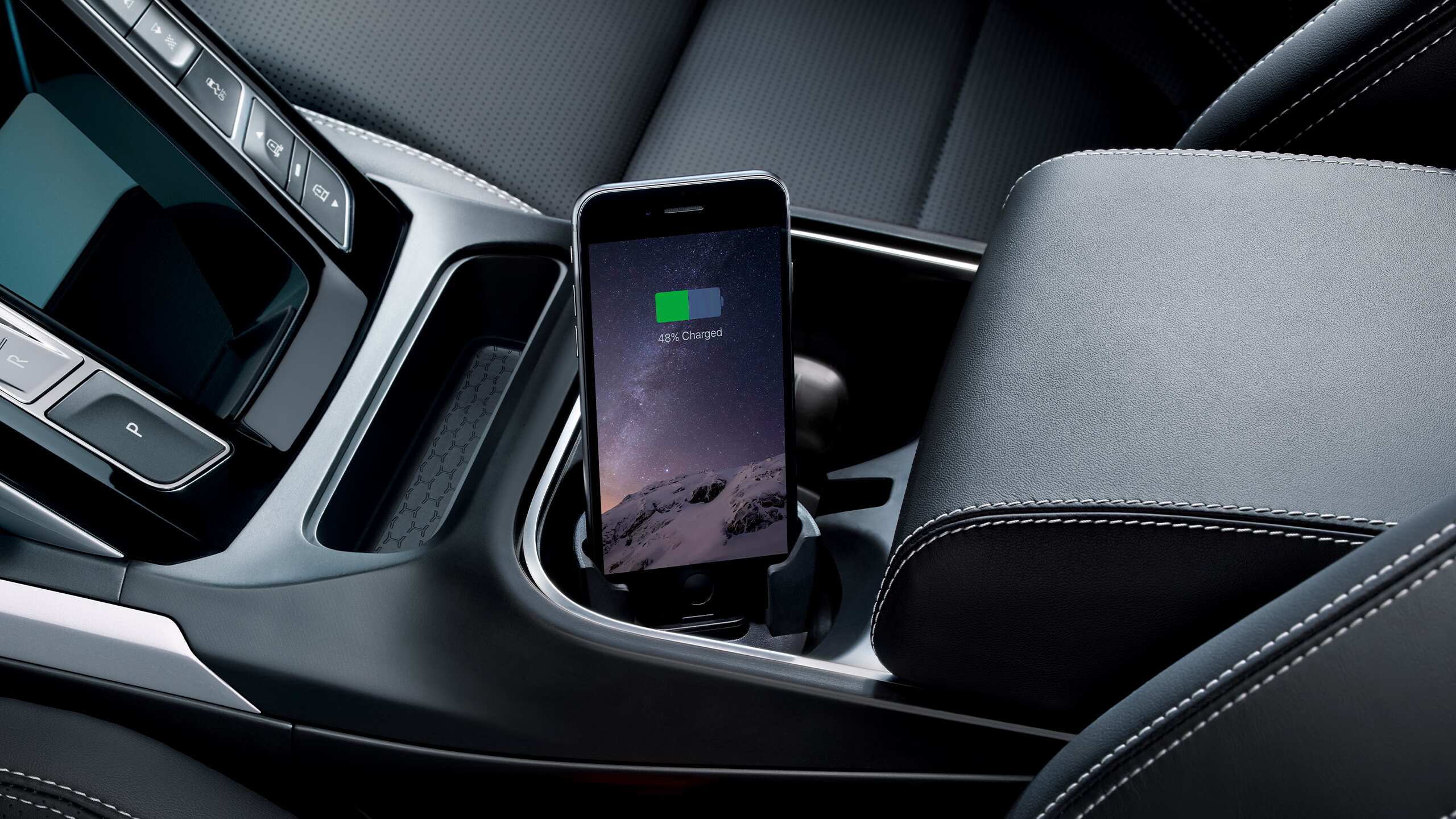 IPHONE® CONNECT AND CHARGE DOCK
Designed to allow visibility of your phone* while charging, the iPhone connect and charge dock utilises the cup holder space in the central console. When connected, the iPhone's media is accessible and has the ability to be controlled via the integrated in-car infotainment system.

*For use with iPhone 5, 5c, 5s, 6, 6s, SE, 7 and 8. Not suitable for use with 6 Plus and 7 Plus.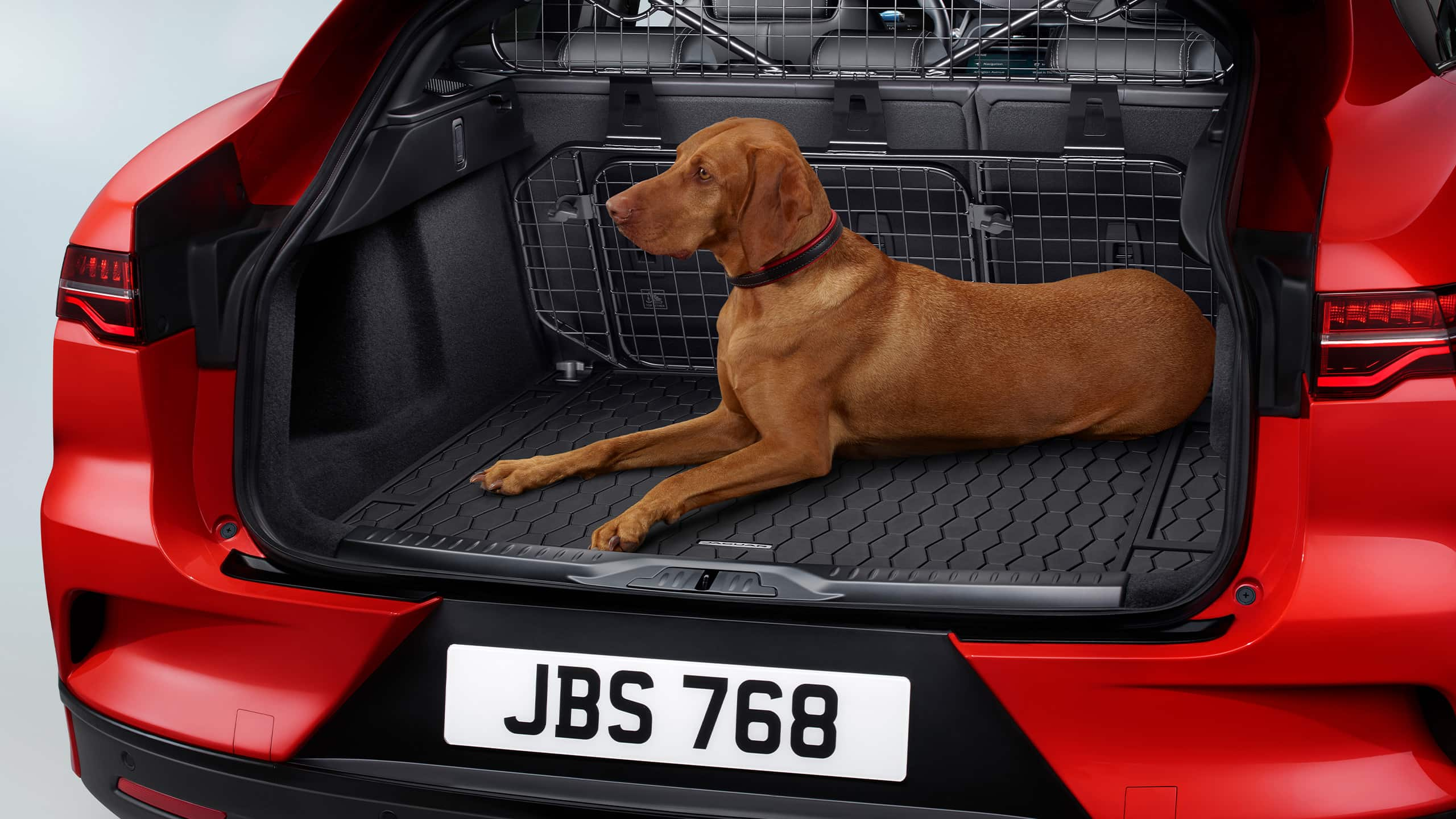 PET PACK
Keep your pet comfortable, happy and safe. A full height partition keeps the passenger space your own, while the choice between a waterproof liner tray or durable rubber mat protects your vehicle's loadspace.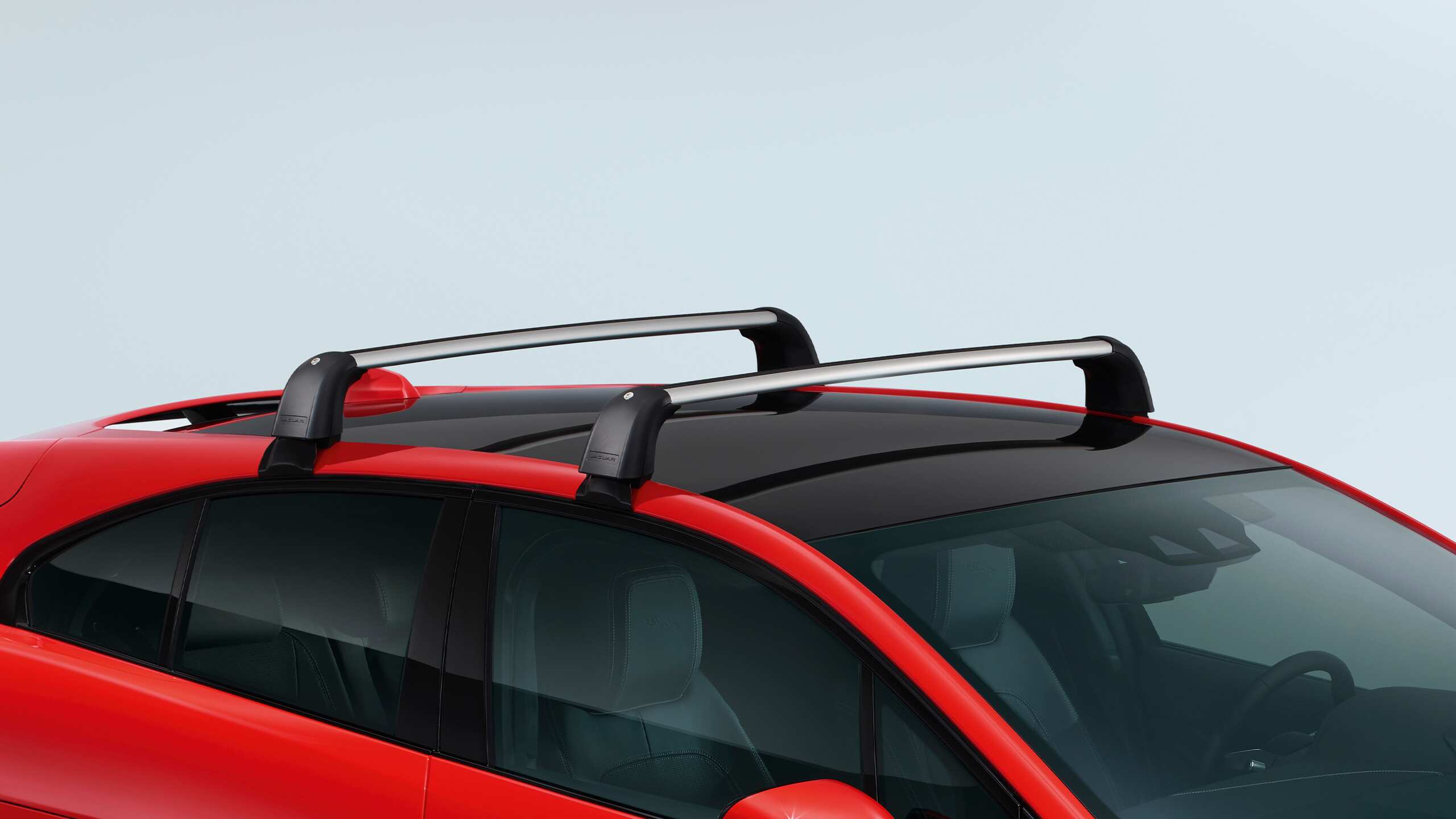 ROOF CROSS BARS
Cross bars enable the use of a wide range of roof carrying accessories. I‑PACE cross bars feature a new and unique quick release mechanism allowing the cross bars to be easily fitted or removed without the use of tools.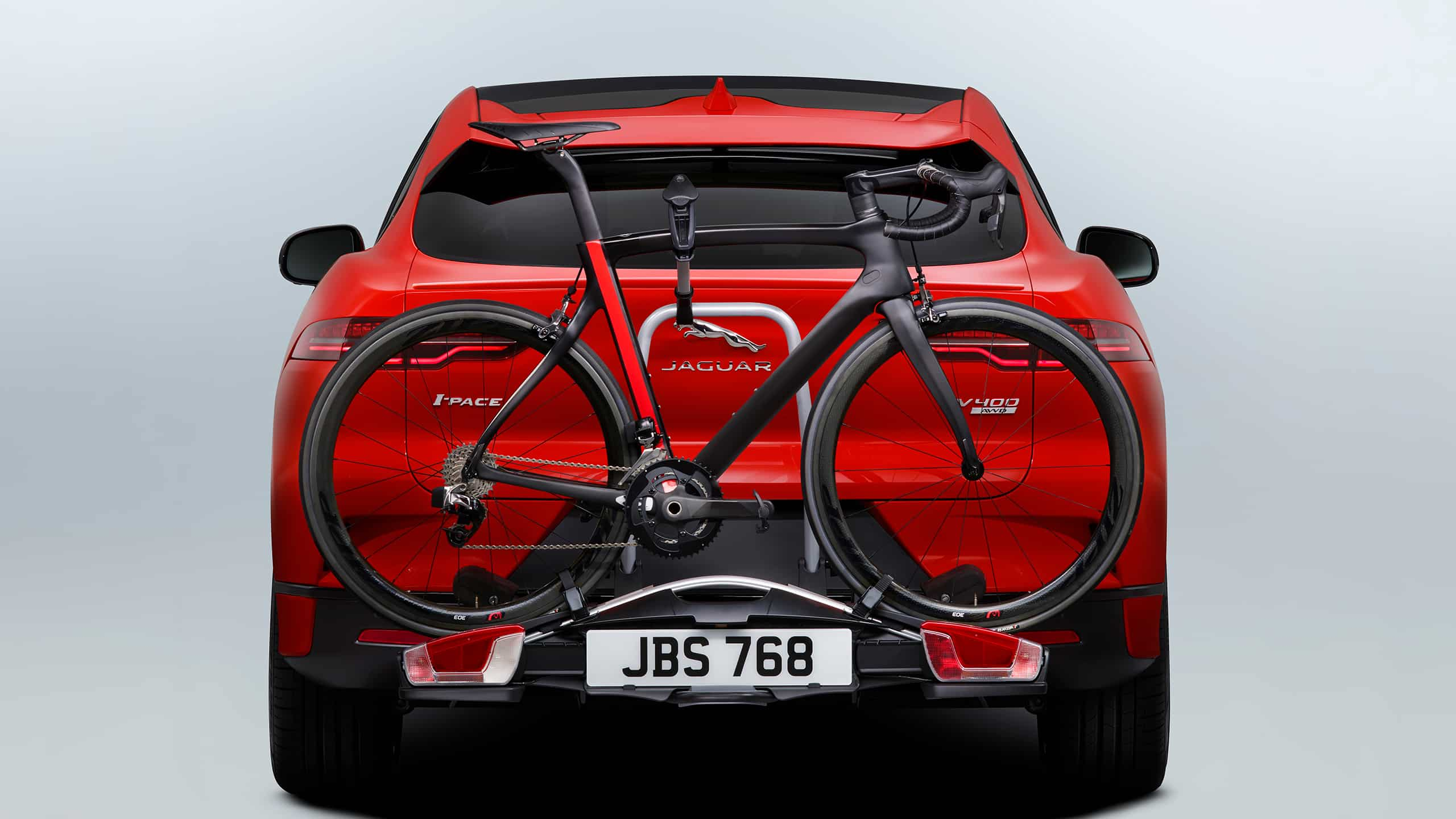 REAR MOUNTED CYCLE CARRIER
An easy to fit, rear mounted, lockable cycle carrier for one bike. A maximum of three holders can be fitted.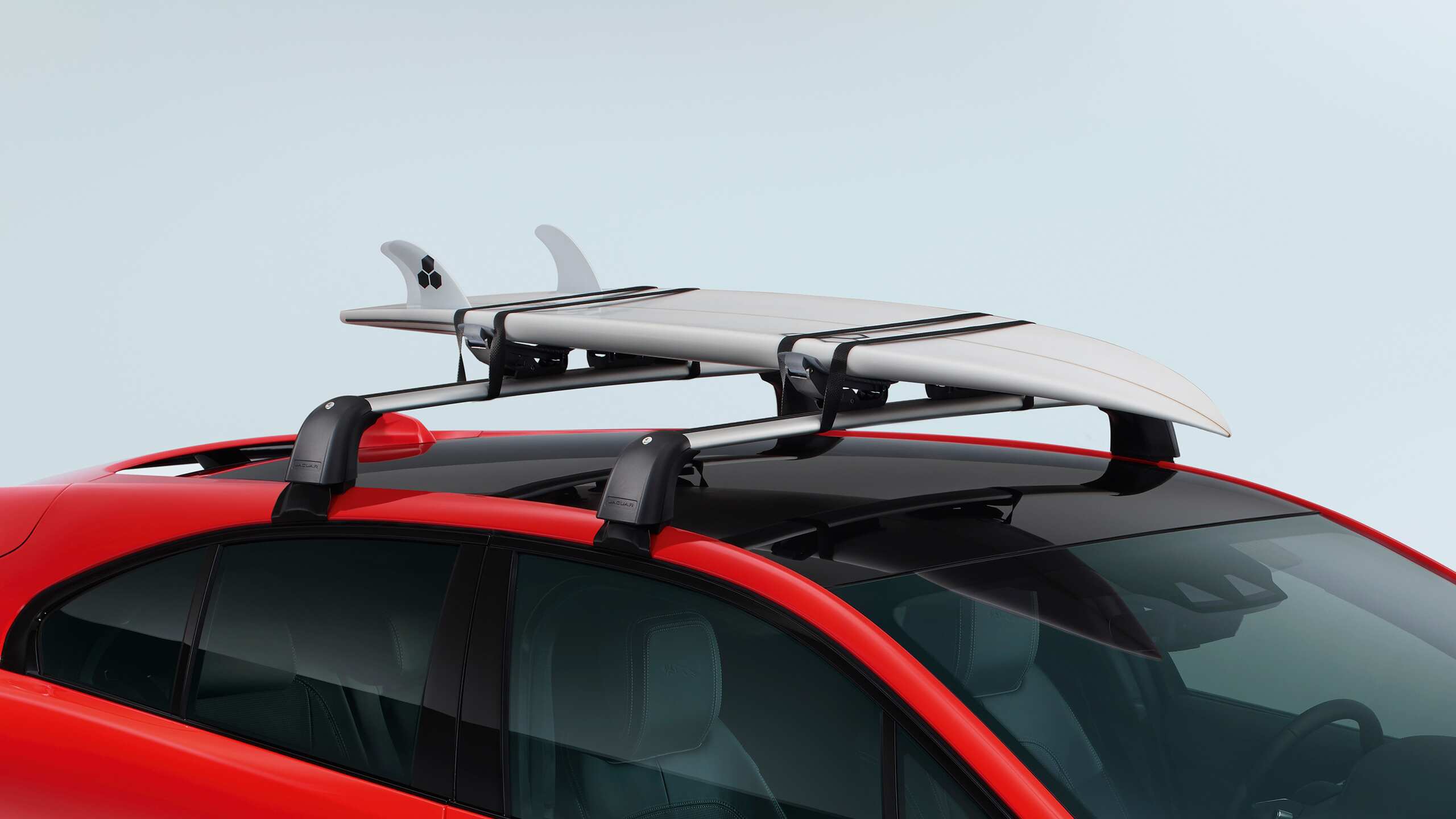 WATER SPORTS CARRIER
A versatile system for transporting a variety of sports equipment including a surfboard, kayak or sailboard. Maximum load capacity is 65kg.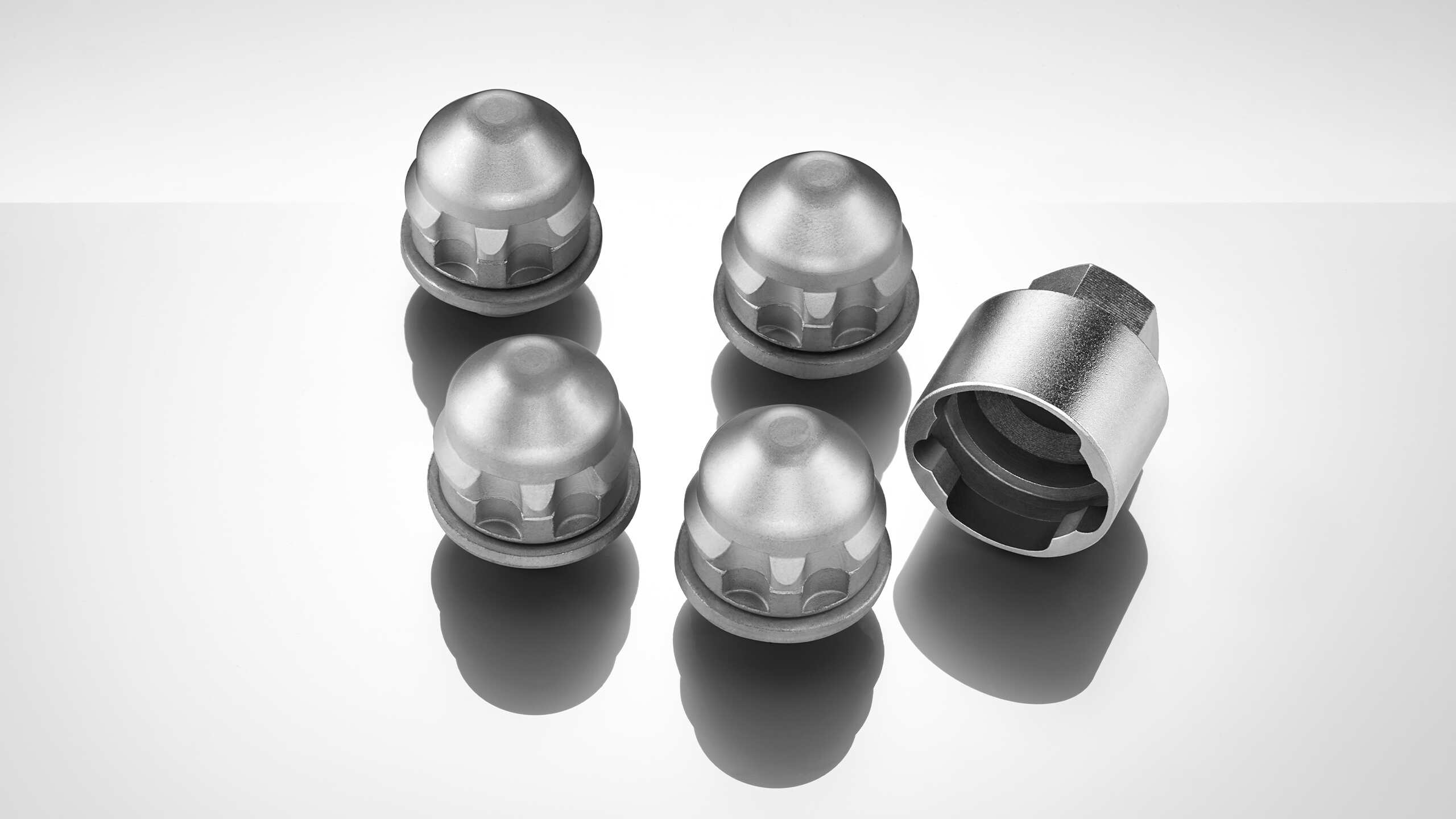 LOCKING WHEEL NUTS - CHROME
Protect your wheels with custom designed, high-security Chrome locking wheel nuts.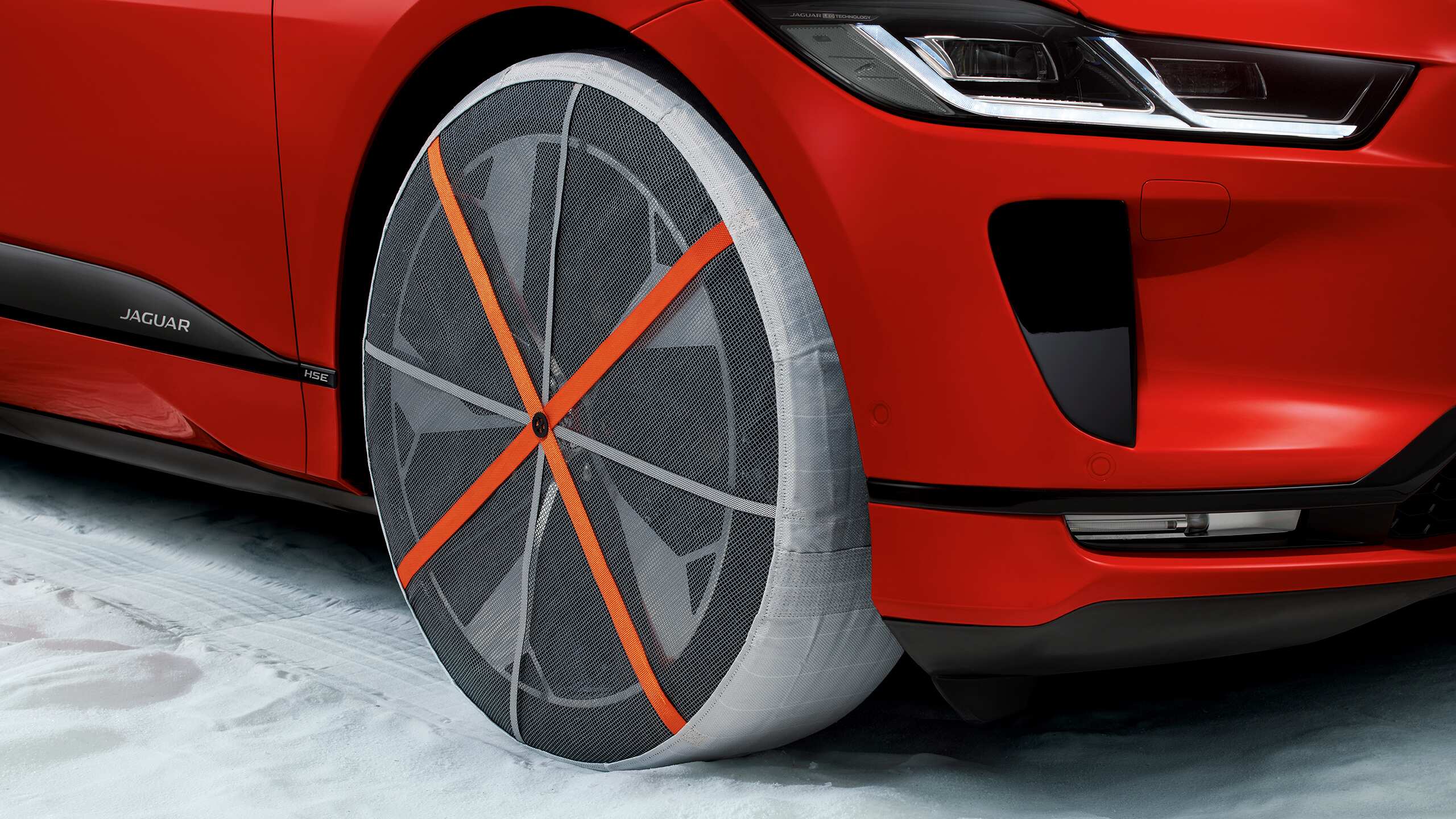 SNOW SOCK WINTER TRACTION AID
The lightweight textile, snow and ice traction aid is easy and quick to attach, and packs down for easy stowage. Fitment to all four wheels is recommended.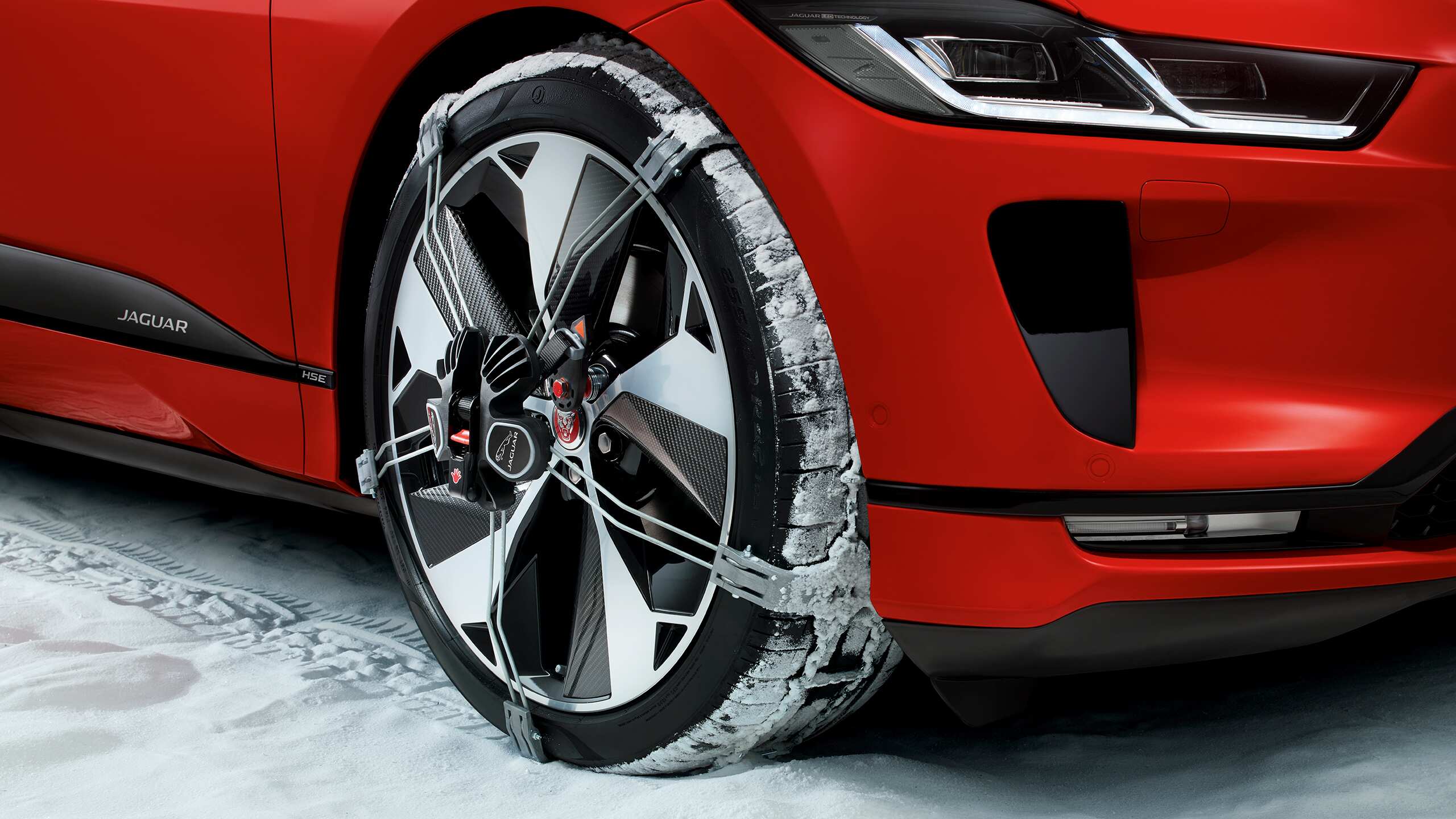 SNOW TRACTION SYSTEM
Improved mobility in snow, mud and icy driving conditions with this high-grip snow chain traction system. Fitment to all four wheels is recommended.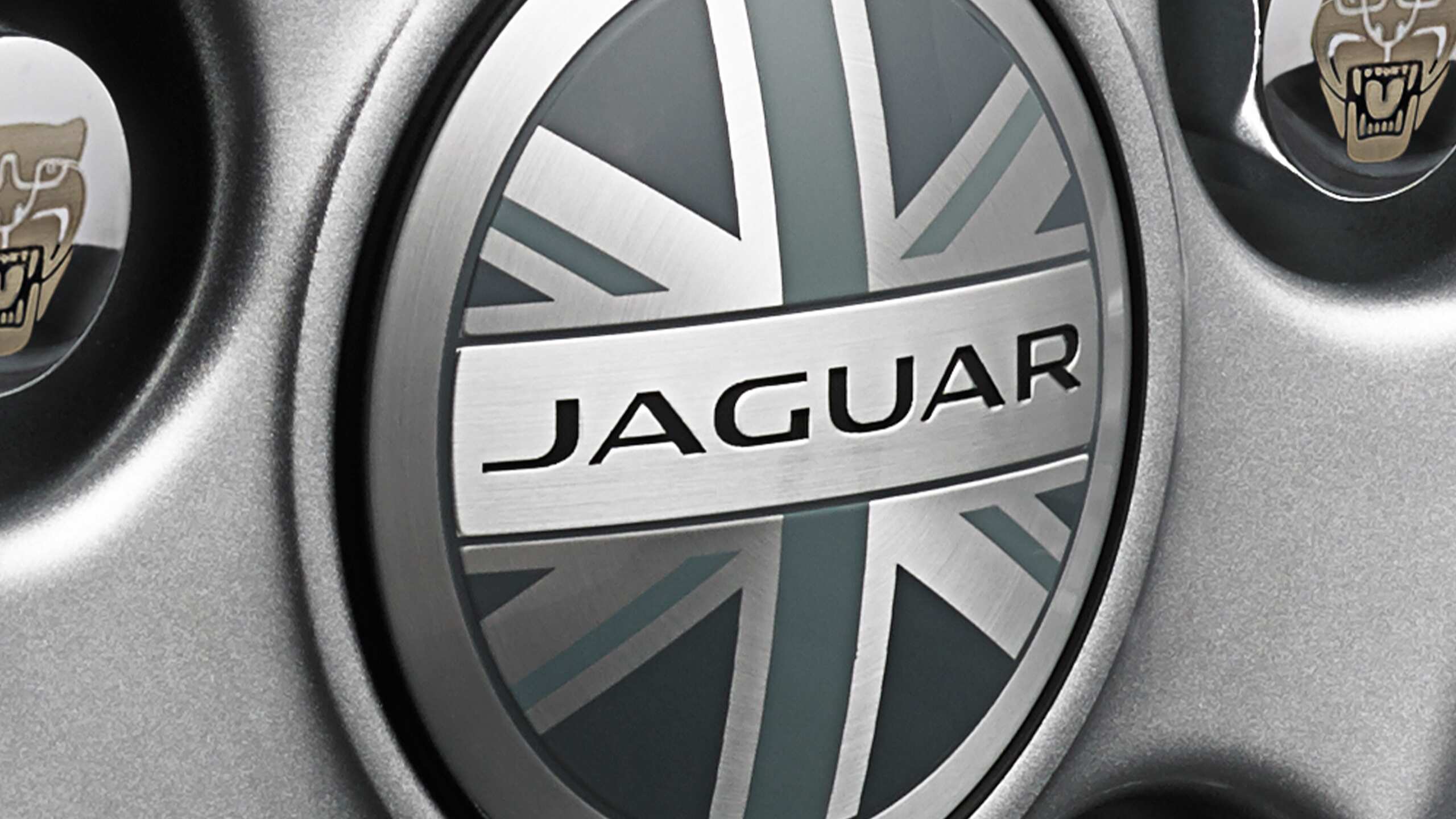 WHEEL CENTRE BADGE - UNION JACK
The distinctive monochrome centre badge featuring the Jaguar logo with a Union Jack design evokes our British heritage.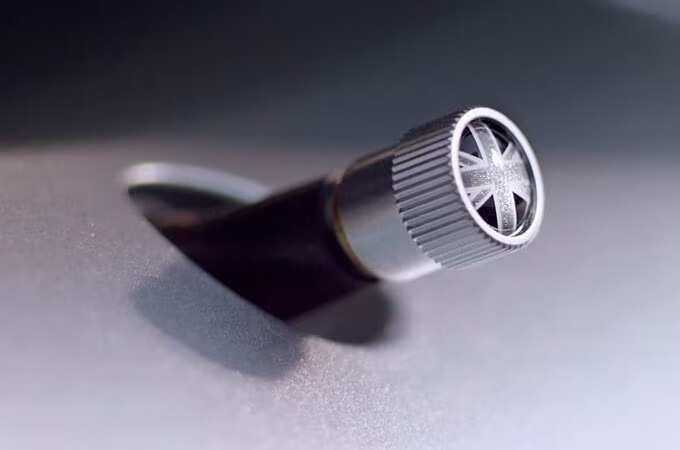 STYLED VALVE CAPS - UNION JACK
Add the finishing touch to your vehicle's wheels with a range of unique custom valve caps.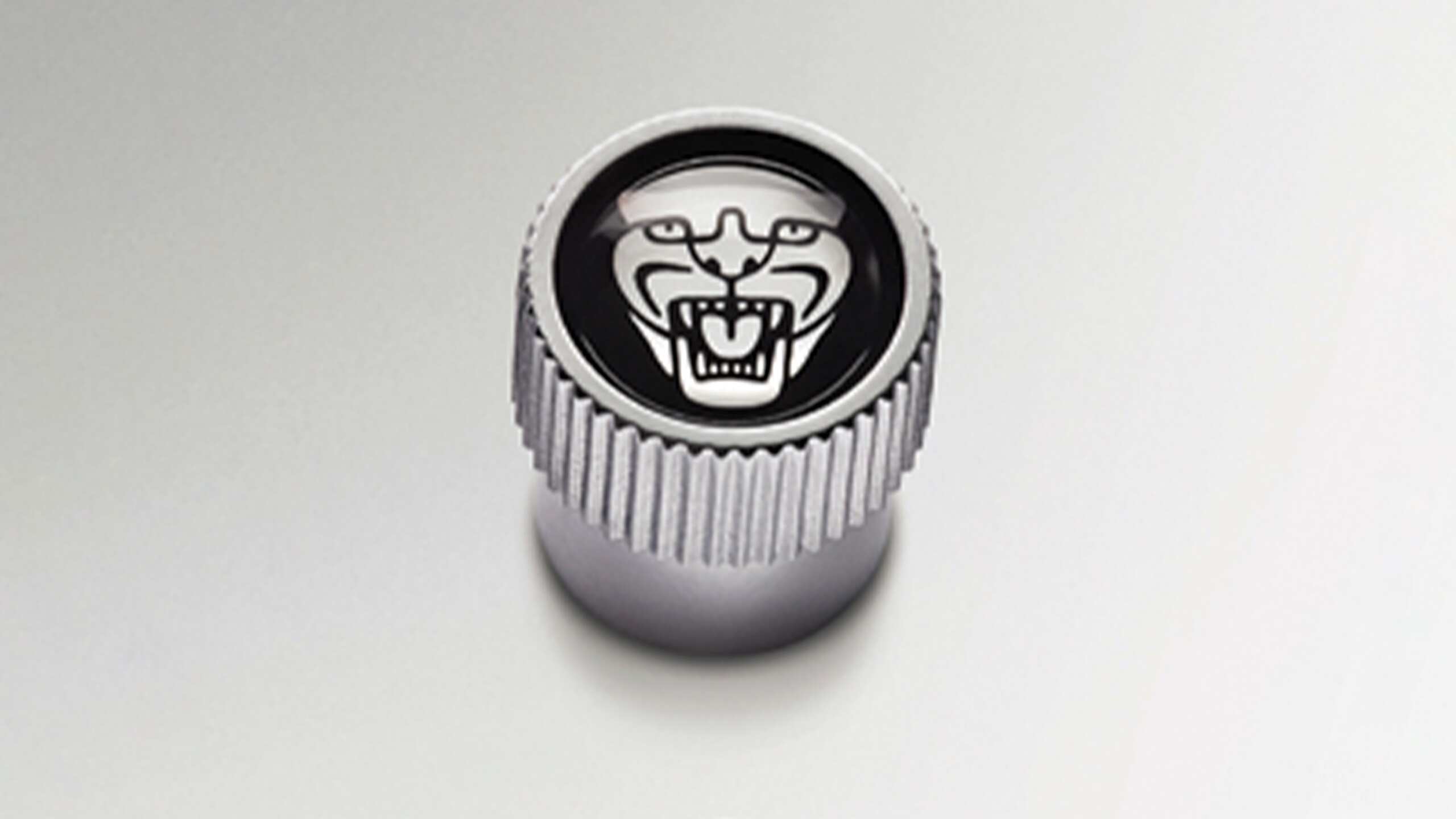 STYLED VALVE CAPS - JAGUAR 'GROWLER'
The 'Growler' is an important part of our heritage. Add the finishing touch to your vehicle's wheels with these custom valve caps.
Find your electrifying combination of Jaguar performance, technology and style.