JAGUAR DRIVERS SCOOP SILVERWARE AT THE 2018 JAGUAR SIMOLA HILLCLIMB
Terry Grant wows crowds with a stunning display of stunt driving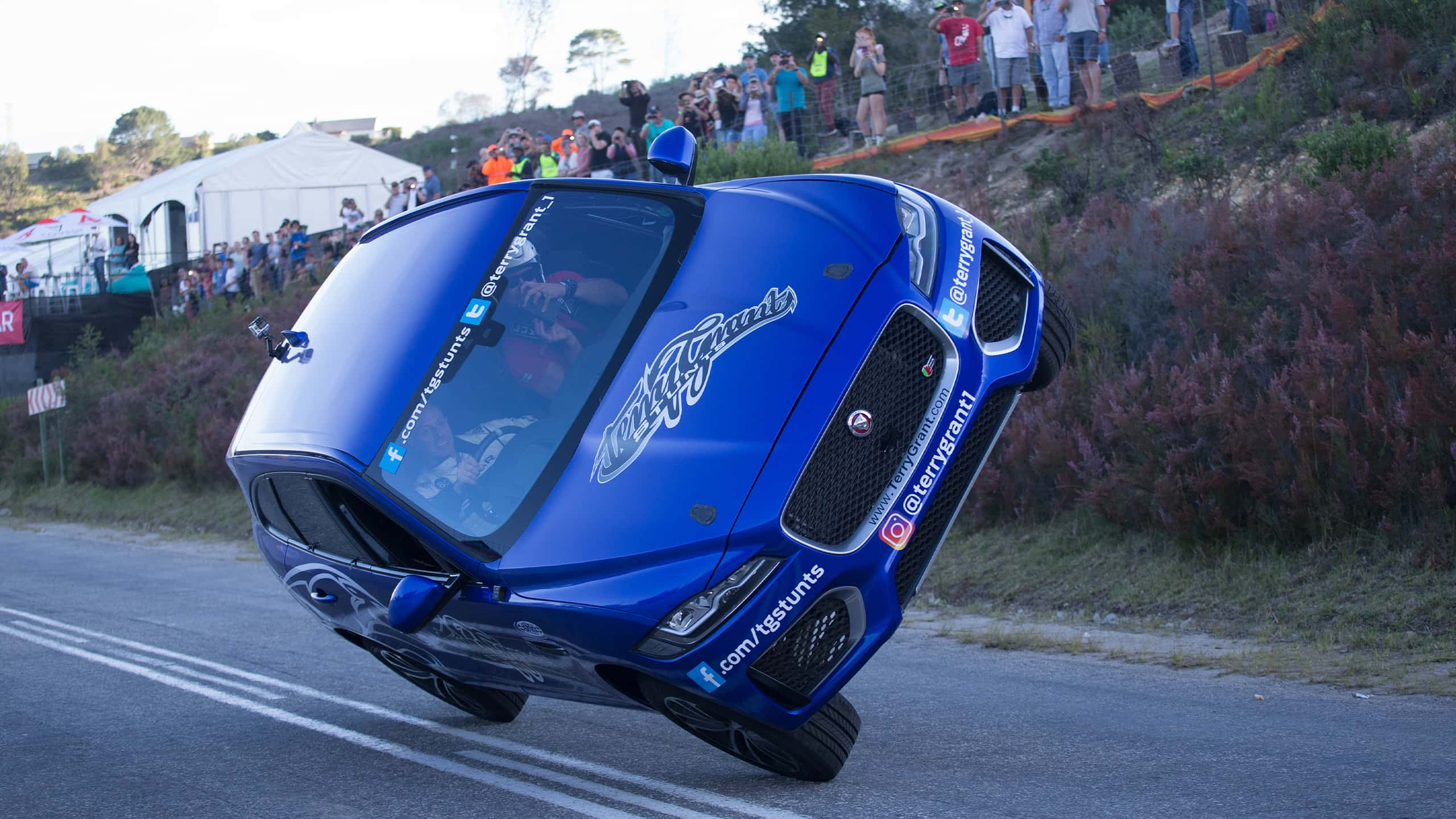 The 2018 edition of the Jaguar Simola Hillclimb was the biggest in the event's nine-year history, with over 17 000 spectators descending on the Knysna golf estate to witness some of the country's most elite drivers compete for bragging rights. The official tally was around 2000 more than last year's record attendance.
Classic Car Friday, on 4 May, saw a pair of pristine E‑TYPEs take to the hill in two separate categories. Ron Hollis walked away with a dominant win in Class H2 in his 1966 4.2-litre Series 1 Coupe, beating his nearest competitor by over six seconds. Patrick Gearing, who was at the wheel of a 1972 V12 Series 3 Coupe once owned by Princess Marie of Liechtenstein, scored second place in Class H3.
In the overall timesheets there was no match for Franco Scribante, who took a third Classic Conqueror title in his immaculate Chevron B19. Franco had more the three seconds in hand over second place, with a best pass of 42.196 seconds.
In the King of the Hill main event, which took place over Saturday and Sunday, Team Jaguar's Dawie Olivier was the quickest of nine Class A7 entrants in his snarling Jaguar F‑TYPE SVR. Dawie went on to earn second place overall in the road-going supercars category, giving way to nemesis Reghard Roets by just seven-hundredths of a second in the top-ten shootout.
Multiple world and national championship-winning race driver Mark Cronje showed a field of low-slung supercars what Jaguar's flagship performance sedan, the new XJR 575, can do by putting the 423kW luxury limousine into the same prestigious top-ten shootout.
"It's a big car," said Mark. "But it certainly has the power to run with the big guns. I think we surprised some competitors, and fans with the result. Nobody expected a monster four-door sedan to outrun so many supercars. This car means business in more ways than one."
Cars.co.za's video journalist Ciro De Siena secured second place in Class A4 with the recently-launched E‑PACE P300. The result may have come by default, but the performance of the 221kW compact SUV impressed many rivals, including some purpose-built race machines.
Andre Bezuidenhout won his second successive King of the Hill title by smashing the course record in his newly-acquired Gould GR55. The UK-sourced hillclimb special crushed the competition with a best time of 36.006 seconds – besting the time he set in a Dallara F1 car last year by more than a second. Wilhelm Baard and Reghard Roets also duplicated their 2017 feats by winning the modified saloon and road-going supercar categories respectively.
Over the course of the weekend world-famous stuntman Terry Grant thrilled spectators and some lucky passengers by completing the entire 1.9km course in a Jaguar F‑PACE balanced on two wheels. A timing transponder was placed in the SUV for his final attempt on Sunday afternoon, and it recorded an elapsed time of three minutes flat. The time gives the Brit an unofficial two-wheel class win, and a lap record he challenges anyone to try to beat.
"It's a privilege to be invited to this award-winning event," said Terry. "South Africa is honestly one of my favourite places in the world and the Jaguar Simola Hillclimb sets a standard that's on par with the best motorsport meetings I've been fortunate enough to attend. I think my three-minute run will stand for some time to come. Hopefully I can come back to break it next year."
WATCH THE JAGUAR SIMOLA HILLCLIMB VIA LIVE STREAM
Jaguar Simola Hillclimb fans can now watch from anywhere in the world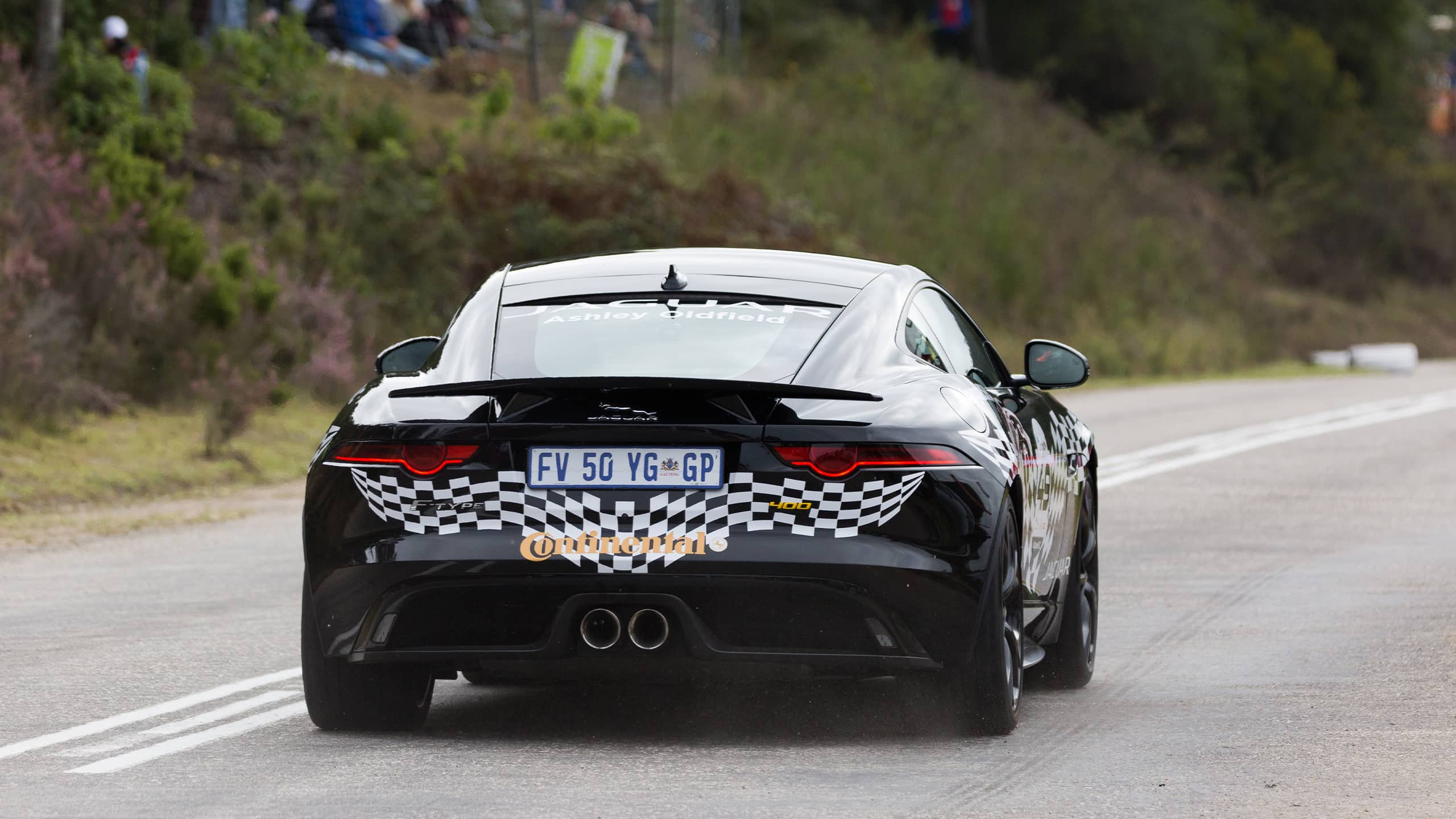 Fans of the Jaguar Simola Hillclimb who aren't lucky enough to be at the event in person will now have the opportunity to live stream all the action from wherever they are.
Six cameras will be strategically positioned along the 1.9km Simola road so that every inch of tarmac is within view of spectators tuning in from anywhere in the world. Two more cameras will roam the pit complex for behind the scenes looks at the cars and drivers. All that's required is an internet connection, and fans can enjoy a live stream of the 2018 Jaguar Simola Hillclimb on their smartphones, tablets, laptops, PCs or smart TVs.
Lisa Mallett, Marketing Director, Jaguar Land Rover South Africa and sub-Sahara Africa, said: "While we're proud of the growing popularity and live spectator attendance at the Jaguar Simola Hillclimb each year, we also understand it's not possible for everyone to be there in person. This has become a world-class event, and we want to share it with just that – the world. Jaguar's investment in a hi-tech live streaming platform allows us to reach a much broader audience than ever before".
Popular South African sports presenter Arnold Geerdts will be the voice of the 2018 Jaguar Simola Hillclimb, offering commentary on the racing action as it happens. Viewers will also benefit from live timing screens as well as competition leaderboards, eliminating guesswork when it comes to who's who and how fast they get up the hill.
The event schedule kicks off on Friday with the annual Classic Car Friday competition, followed by King of the Hill practice and qualifying sessions on Saturday, two more qualifying runs on Sunday morning and the King of the Hill Finale on Sunday afternoon.
Viewers will have the choice of watching on two platforms. Tune in on Jaguar South Africa's Facebook page during the event to watch practice, qualifying and class final runs as they happen. Jaguar South Africa's YouTube channel will also stream nonstop from Friday morning to Sunday evening with a continuous loop of on track action when no live racing is taking place.
TEAM JAGUAR GEARED UP FOR 2018 JAGUAR SIMOLA HILLCLIMB CHALLENGE
Supercharged line-up of Jaguar vehicles to contest the ninth running of South Africa's premier racing event
A wide variety of Jaguar's cats will come out to play in the King of the Hill competition at this year's Jaguar Simola Hillclimb, with a driver line-up comprising first-time racers, Hillclimb regulars and a world champion motorsportsman.
Heading the charge in the Supercars Class is Jaguar South Africa's national aftersales manager, Dawie Olivier. Dawie, who has competed in every Jaguar Simola Hillclimb, is entered in Class A7 for super- or turbocharged road-going cars with eight-cylinders or more, with a ferocious 423kW Jaguar F-TYPE SVR.
Also in Class A7 is multiple racing champion Mark Cronje in Jaguar's new performance flagship – the XJR 575. With a 5.0-litre supercharged V8 sending 423kW to the rear wheels through an eight-speed automatic transmission, and the ability to launch from 0-100km/h in 4.4 seconds, the XJR 575 is the fastest and most powerful version of the XJ sedan to date. A well-known name in motorsport, Mark Cronje's resume boasts five South African national rally championships and two national Off-Road titles. Mark was also crowned Rotax Max World Karting world champion in 2002.
Another Jaguar sports sedan will be entered by Jaguar South Africa's Regional Technical Manager, Derrick Dearlove, who will contest Class A3 for cars with blown six-cylinder engines in a 2018 model year Jaguar XE S. In its latest guise, the 3.0-litre supercharged V6 in the XE S has been upgraded from 250kW to 280kW. The rear-wheel drive XE S can launch from standstill to 100km/h in 5.0 seconds.
Jaguar's PACE family of SUVs will also be a highlight of this year's event. The recently-launched E-PACE compact SUV is set to be the first Jaguar SUV to compete at the Jaguar Simola Hillclimb, with popular South African videojournalist Ciro De Siena, from www.cars.co.za at the wheel. Ciro's entry comes in the form of an E-PACE P300 with 221kW from its Ingenium petrol turbo engine, standard all-wheel drive and a nine-speed automatic transmission.
Spectators can look forward to a stunning display of precision driving from world-famous stuntman Terry Grant. The multiple world record-holder will wow crowds by driving up the 1.9km Simola road on two wheels during intermissions, in the very same Jaguar F-PACE with which he completed the world's highest loop-the-loop in a car, at 19.08 metres in 2015. You can watch the video of this stunt by clicking below. For the second year running, Jaguar South Africa has afforded two lucky customers the opportunity to drive their own vehicles in anger as competitors at the Jaguar Simola Hillclimb.
As the winners of a customer experience day held at Kyalami exclusively for F-TYPE owners, Travis Briscoe and Jason Basterfield were the recipients of a prize money cannot buy: an all-expenses paid trip to compete at South Africa's premier motorsport event. Both will pilot their own Jaguar F-TYPE S sports cars.
JAGUAR'S GROWING PACE FAMILY SET FOR HILLCLIMB ACTION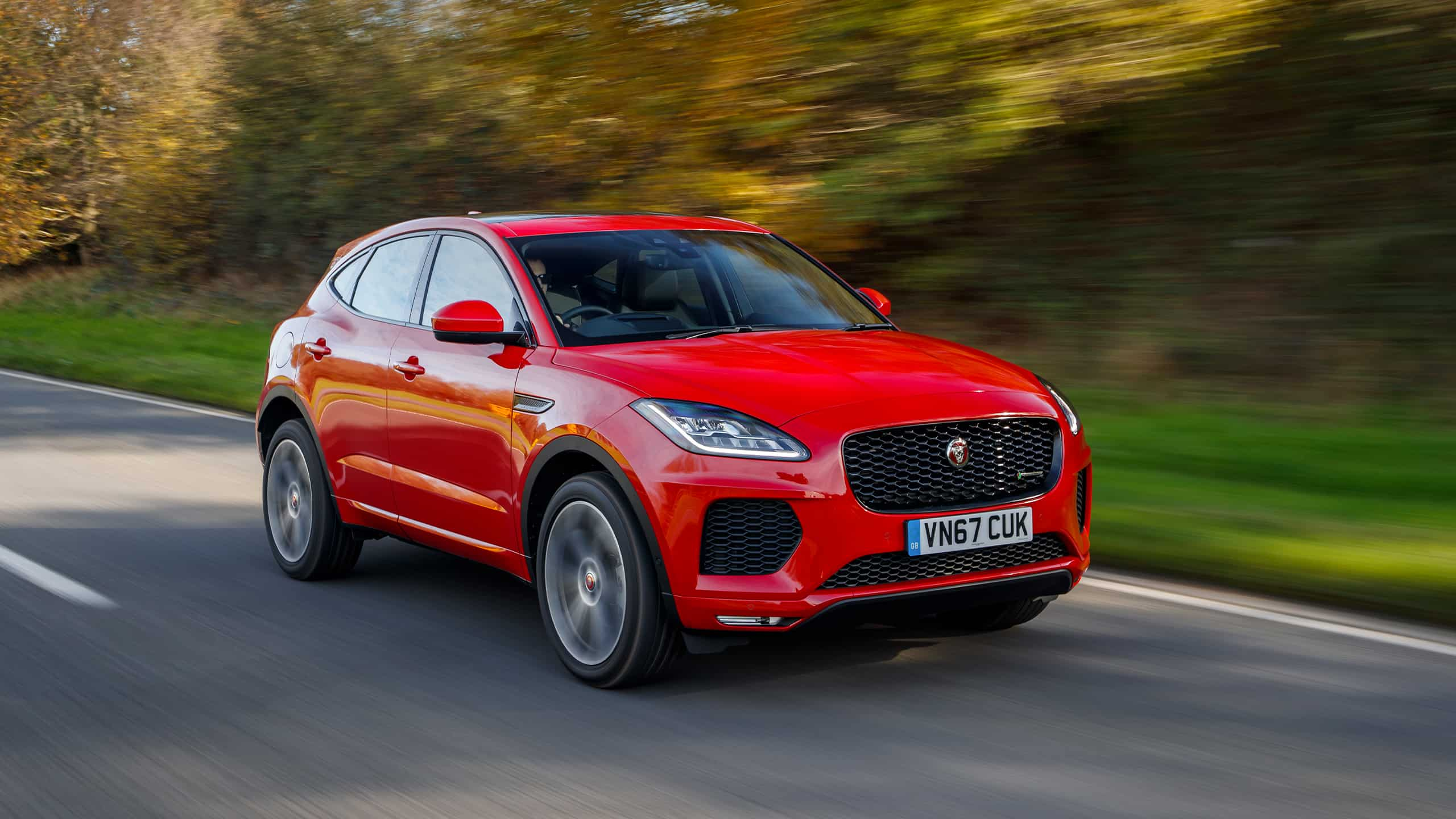 While Jaguar's range of SUVs normally demonstrates a perfect balance of sportiness and practicality, there will be a firm focus on the former at the upcoming Jaguar Simola Hillclimb. Spectators will see three separate models from the growing PACE family perform at full tilt during the event's King of the Hill days, set to run on Saturday and Sunday (5-6 May 2018) at the coastal resort.
Fresh from its South African debut in March, the All-New E-PACE will be put to the test on the famed 1.9km hill, where its compact dimensions, inherent agility and built-in Jaguar sports car DNA will be key to its performance. Entered is the E-PACE P300, which is endowed with 221kW and 400Nm, and can launch from 0-100km/h in a rapid 6.4 seconds.
The 2018 Jaguar Simola Hillclimb kicks off with Classic Car Friday, on 4 May 2018. On Saturday and Sunday (5-6 May 2018), competitors will race up the most-contested stretch of road in the country for the King of the Hill title.
Tickets can be bought online - follow the link below.